Page 3 - AreaNewsletters "Aug 2020" issue
P. 3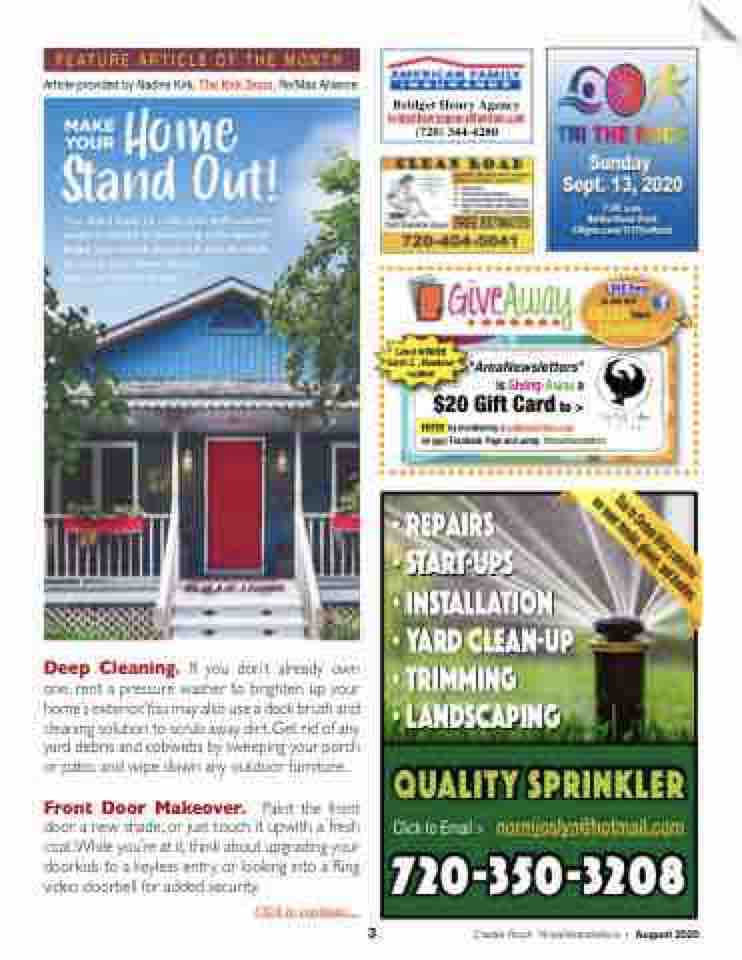 F E A T U R E A R T I C L E O F T H E MO N T H
Article provided by Nadine Kirk, The Kirk Team, Re/Max Alliance.
American Family Insurance
Bridget Henry Agency
When it comes to building credit, it can e di cult to tell fact from  ction. Use this short true-or-false quiz to help you get the facts straight and your credit in great shape.
True or False?
bridgethenryagency@amfam.com
(720) 344-4280
LIKE here
to see and ENTER future
DRAWINGS!
Latest WINNER Sarah Z. , Meadows resident
"AreaNewsletters" is Giving-Away a
$20 Gift Card to >
ENTER by mentioning AreaNewsletters.com
on your Facebook Page and using: #AreaNewsletters
• repairs
• START-UPS
• INSTALLATION •YARDCLEAN-UP • TRIMMING
• LANDSCAPING
QUALITY SPRINKLER
Click to Email > normjoslyn@hotmail.com 720-350-3208
Deep Cleaning. If you don't already own one, rent a pressure washer to brighten up your home's exterior.You may also use a deck brush and cleaning solution to scrub away dirt. Get rid of any yard debris and cobwebs by sweeping your porch or patio, and wipe down any outdoor furniture.
Front Door Makeover. Paint the front door a new shade, or just touch it upwith a fresh coat.While you're at it, think about upgrading your doorkob to a keyless entry, or looking into a Ring video doorbell for added security.
Click to continue....
3 Castle Rock "AreaNewsletters • August 2020
Due to Corona Virus concerns we wear masks, gloves, and booties.