Page 5 - AreaNewsletters "Sept 2020" issue
P. 5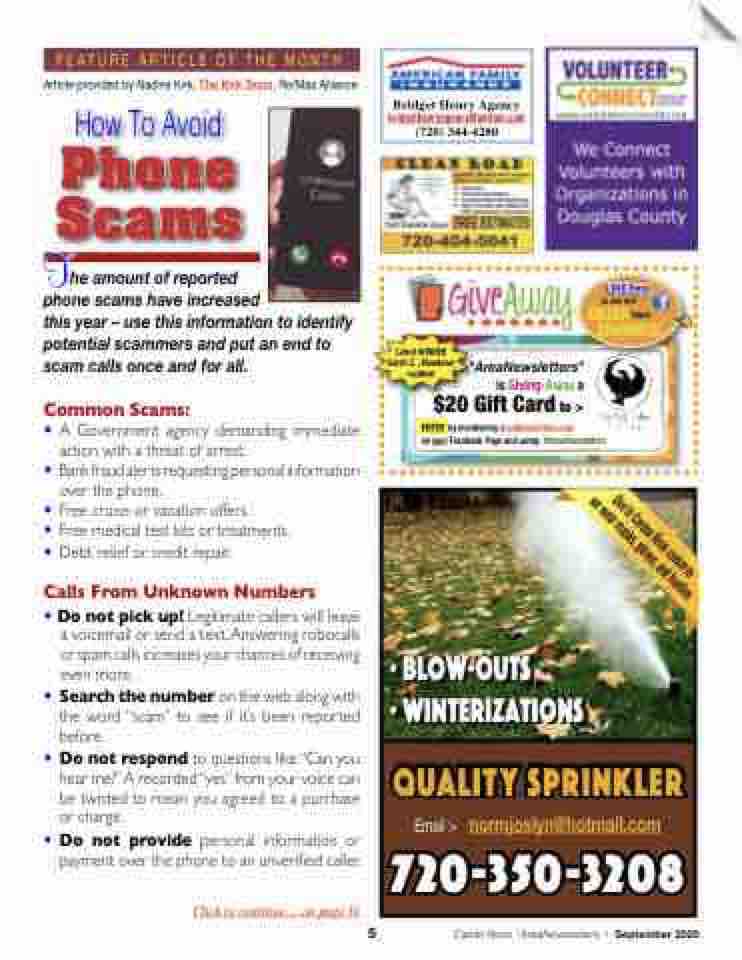 F E A T U R E A R T I C L E O F T H E M O N T H
Article provided by Nadine Kirk, The Kirk Team, Re/Max Alliance.
The amount of reported
phone scams have increased
this year – use this information to identify potential scammers and put an end to scam calls once and for all.
Volunteer Connect Douglas County Community Service
www.volunteerconnectdc.org
How To Avoid
American Family Insurance
Bridget Henry Agency
Phone Scams
bridgethenryagency@amfam.com
(720) 344-4280
LIKE here
to see and ENTER future
DRAWINGS!
Latest WINNER Sarah Z. , Meadows resident
"AreaNewsletters" is Giving-Away a
$20 Gift Card to >
ENTER by mentioning AreaNewsletters.com
on your Facebook Page and using: #AreaNewsletters
Common Scams:
• A Government agency demanding immediate action with a threat of arrest.
• Bankfraudalertsrequestingpersonalinformation over the phone.
• Blow-Outs
• Blow-Outs
• Winterizations
• Winterizations
QUALITY SPRINKLER
Email > normjoslyn@hotmail.com 720-350-3208
• Free cruise or vacation offers.
• Free medical test kits or treatments.
• Debt relief or credit repair.
Calls From Unknown Numbers
• Do not pick up! Legitimate callers will leave a voicemail or send a text. Answering robocalls or spam calls increases your chances of receiving even more.
• Search the number on the web along with the word "scam" to see if it's been reported before.
• Do not respond to questions like "Can you hear me?"A recorded"yes"from your voice can be twisted to mean you agreed to a purchase or charge.
• Do not provide personal information or payment over the phone to an unveri ed caller.
Click to continue.... on page 31
5
Castle Rock "AreaNewsletters • September 2020
Due to Corona Virus concerns we wear masks, gloves, and booties.