Page 18 - TAGR-Companion Text
P. 18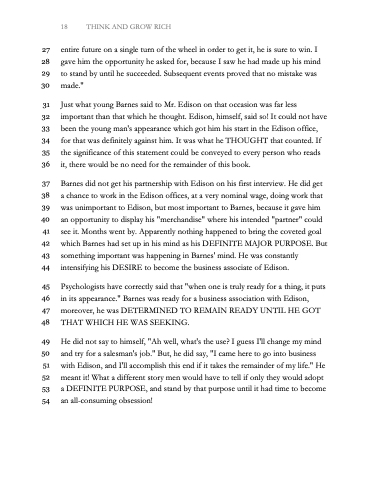 18 THINK AND GROW RICH
27 entire future on a single turn of the wheel in order to get it, he is sure to win. I
28 gave him the opportunity he asked for, because I saw he had made up his mind
29 to stand by until he succeeded. Subsequent events proved that no mistake was
30 made."
31 Just what young Barnes said to Mr. Edison on that occasion was far less
32 important than that which he thought. Edison, himself, said so! It could not have
33 been the young man's appearance which got him his start in the Edison office,
34 for that was definitely against him. It was what he THOUGHT that counted. If
35 the significance of this statement could be conveyed to every person who reads
36 it, there would be no need for the remainder of this book.
37 Barnes did not get his partnership with Edison on his first interview. He did get
38 a chance to work in the Edison offices, at a very nominal wage, doing work that
39 was unimportant to Edison, but most important to Barnes, because it gave him
40 an opportunity to display his "merchandise" where his intended "partner" could
41 see it. Months went by. Apparently nothing happened to bring the coveted goal
42 which Barnes had set up in his mind as his DEFINITE MAJOR PURPOSE. But
43 something important was happening in Barnes' mind. He was constantly
44 intensifying his DESIRE to become the business associate of Edison.
45 Psychologists have correctly said that "when one is truly ready for a thing, it puts
46 in its appearance." Barnes was ready for a business association with Edison,
47 moreover, he was DETERMINED TO REMAIN READY UNTIL HE GOT
48 THAT WHICH HE WAS SEEKING.
49 He did not say to himself, "Ah well, what's the use? I guess I'll change my mind
50 and try for a salesman's job." But, he did say, "I came here to go into business
51 with Edison, and I'll accomplish this end if it takes the remainder of my life." He
52 meant it! What a different story men would have to tell if only they would adopt
53 a DEFINITE PURPOSE, and stand by that purpose until it had time to become
54 an all-consuming obsession!