Page 14 - Packaging News Magazine Jan-Feb 2019
P. 14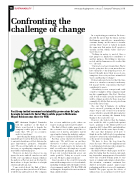 14
SUSTAINABILITY www.packagingnews.com.au  January-February 2019
Confronting the challenge of change
Pact Group invited renowned sustainability provocateur Dr Leyla Acaroglu to launch its End of Waste white paper in Melbourne.
PWayne Robinson was there for PKN.
ACT chairman Raphael Geminder told the audience at the End of Waste event hosted to launch the company's white paper of the same name that, "We are on a journey, and it is terrifying".
Introducing the main speaker, sus- tainability provocateur Dr Leyla Acaroglu, to an invited audience at Pact division In- pact Innovation's premises, Geminder said, "We are getting right out of our com- fort zone, as a packaging company it is an incredibly confronting space.
"However, we have two choices: we can ignore the noise and tell ourselves we will be OK, or we can embrace change, which is the path we at Pact are now on. It is hard to know where to begin, but there is a bright solution ahead I am sure.
"I am excited about the End of Waste white paper we have just released. We have worked long and hard on it. The company
In a captivating presentation, Dr Acaro- glu told the guests that the linear systems that humans currently use – manufacture, consume, dump – need to move to circular systems where waste is valued, in much the same way that nature itself operates a circular system which values and uses waste for good.
"Nothing in nature is wasted. Once a first purpose is finished it contributes to another purpose. Everything is intercon- nected, and we humans need to realise this too," she said.
"Our waste is a basic design flaw. Plastic bottles going into the ocean mean that we have only gone so far along the process, we haven't thought about their use post-con- sumption. As a society we have normalised waste, and that has to change."
Dr Acaroglu says, however, that the tran- sition to a circular economy is underway, led in part by the corporations that have contributed to waste.
"Circularity is now a mega trend, with countless examples of big companies mak- ing big commitments, like Pact. Ikea has said it will be fully circular by 2030 and will be climate positive by then, Lego has committed to blocks that are not petroleum based. The list is long."
She says that if humans do nothing "we're screwed", pointing out that for in- stance 30 per cent of our food is from the ocean, which is awash with microplastics that are now entering the human body thanks to the seafood we eat.
However, she believes that the human race would be able to push back against waste, pointing to the Montreal Protocol signed in 1987 to ban CFCs, and which has led to the hole in the ozone layer closing.
She says that designers need now to think about the full lifecyle for packaging, and move away from only thinking as far as the point of consumption.
"We have to close the loop from the start," she says. "We need to implement end to end integrated systems, where inputs be- come outputs become inputs."
The End of Waste white paper itself be- gins by stating that the tension surround- ing Australia's management of household waste has reached boiling point. It says waste is coming under unprecedented me- dia attention, consumer sentiment has shifted noticeably against unnecessary packaging and there is a need to minimise landfill. The papre reports the effects of China's ban on accepting recycled waste
has set new ambitious goals, where we want to reach an end of waste by 2025."
The End of Waste white paper looks at the economic cost of change and the eco- nomic cost of inertia, articulates current opportunities facing the industry, and pro- poses solutions to end household waste.
Pact has a clear strategy for itself, Gem- inder says. "We will focus on our three objectives: to reduce, re-use and recycle. We have set tough targets; for instance, by 2025, we will reuse all single-use second- ary supermarket packaging, and will use 30 per cent recycled material across our entire portfolio. Today we recycle seven per cent. We have a huge job ahead."
Guest speaker at the event Dr Acaroglu came with an impressive set of credentials, including working with the highest levels of governments and the UN. Her TED talk on disruptive design has been viewed more than a million times.