Page 2 - Australian Defence Magazine - June 2018
P. 2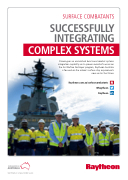 SURFACE COMBATANTS
SUCCESSFULLY INTEGRATING
COMPLEX SYSTEMS
Drawing on an unmatched local naval combat systems integration capability and a proven record of success on the Air Warfare Destroyer program, Raytheon Australia is focused on the nation's surface ship requirements
now and in the future.
Raytheon.com.au/surfacecombatants @Raytheon Raytheon
©2018 Raytheon Company. All rights reserved.