Page 30 - Foodservice magazine may 2019
P. 30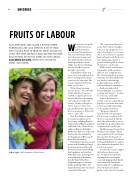 30
UNCORKED
FRUITS OF LABOUR
PACHA MAMA WINES' NINA STOCKER, A MUM AND FORMER MICROBIOLOGIST, AND CALLIE JEMMESON, A CHEF BY TRADE, DON'T FOLLOW A RECIPE OR GROW ANY GRAPES. INSTEAD THEY SOURCE FRUIT FROM AROUND AUSTRALIA AND MAKE EACH WINE BASED ON WHAT THEY RECEIVE. DURING THIS YEAR'S VINTAGE, ALEKSANDRA BLISZCZYK CHECKED IN TO SEE HOW THE HARVEST WAS LOOKING.
Left to right: Callie Jemmeson, Nina Stocker.
When foodservice speaks to Callie Jemmeson and Nina Stocker, co-owners and winemakers at Victorian label Pacha Mama, it's 10 days into vintage, and they admit they haven't been drinking much wine lately. "Right now all we're drinking is beer and coffee to get us through," says Callie.
"It probably feels like this every year, but it right now feels like everything [the fruit] has come in at the same time. The winery's absolutely full to the brim," says Stocker.
Pacha Mama (meaning "mother Earth") was started by Callie's dad Dave Jemmeson
in 2010 as a passion project at the tail end of his winemaking career. But since Callie and Stocker, a former colleague of Dave's, took over three years ago, production has "gone from five to ten tonnes, to 150 to 200 tonnes," says Callie.
Now, their drops are poured at restaurants and bars across
the country, including Banksii, China Doll and Butter in Sydney, and Punch Lane, Charcoal Lane and Scott Pickett's Matilda in Melbourne. This year, Callie and Stocker were also included in
the Young Gun of Wine top 50 Australian winemakers.
Pacha Mama is based on a leased winery in the Strathbogie Ranges. To circumvent the need for seed money, they borrowed everything: land, equipment and even fruit, which they source from 15 growers around Australia (Chardonnay from the Yarra Valley, Pinot
Grigio and Sangiovese from the Alpine and King Valleys, and Gamay from Stocker's own small vineyard in Tallarook).
"We've grown small steps at
a time, but we haven't bought a winery or any equipment, we've always leased space so we've been able to use our money on quality fruit and quality oak. Each year's just a balancing act between growth and being able to sustain the business," says Stocker.
While neither started out as winemakers, Callie says their skills are very complimentary. Her chef training has proved an advantage for balancing flavours, and Stocker's microbiology background has boosted her understanding of fermentation.
Stocker describes their winemaking process as always evolving and "eclectic". "I reckon we rock at it," Callie adds.
Some of their wines are natural, some are technically not, but they try to tinker with them as little as possible depending
on the quality of the fruit.
"The grower spends 11 months of the year growing it and we've got a couple of weeks where we can smash it with all the tricks of the trade, or we can hopefully not do that and just let it express itself," says Stocker.
The Shiraz grapes they get from Heathcote, for example, "always come in perfect nick," says Stocker, who says this is her favourite of Pacha Mama's wines. "It's soft and inviting and definitely one of those wines that makes themselves. It's a very low-stress wine."
"It's when the season's tougher, that's when we have to step
up," she adds. This can involve anything from removing the stems and skipping whole-bunch maceration if the fruit hasn't ripened properly, to adding yeast when the natural yeast that gathers on the vines isn't enough.