Page 34 - Chiron Autumn 2018
P. 34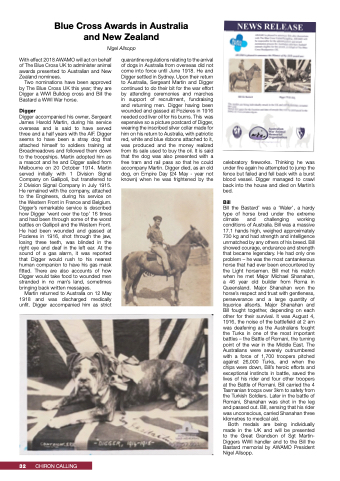 32 CHIRON CALLING
Blue Cross Awards in Australia and New Zealand
Nigel Allsopp
With effect 2018 AWAMO will act on behalf of The Blue Cross UK to administer animal awards presented to Australian and New Zealand nominees.
Two nominations have been approved by The Blue Cross UK this year; they are Digger a WWI Bulldog cross and Bill the Bastard a WWI War horse.
Digger
Digger accompanied his owner, Sergeant James Harold Martin, during his service overseas and is said to have served three and a half years with the AIF. Digger seems to have been a stray dog that attached himself to soldiers training at Broadmeadows and followed them down to the troopships. Martin adopted him as a mascot and he and Digger sailed from Melbourne on 20 October 1914. Martin served initially with 1 Division Signal Company on Gallipoli, but transferred to 2 Division Signal Company in July 1915. He remained with the company, attached to the Engineers, during his service on the Western Front in France and Belgium. Digger's remarkable service is described how Digger 'went over the top' 16 times and had been through some of the worst battles on Gallipoli and the Western Front. He had been wounded and gassed at Pozieres in 1916, shot through the jaw, losing three teeth, was blinded in the right eye and deaf in the left ear. At the sound of a gas alarm, it was reported that Digger would rush to his nearest human companion to have his gas mask fitted. There are also accounts of how Digger would take food to wounded men stranded in no man's land, sometimes bringing back written messages.
Martin returned to Australia on 12 May 1918 and was discharged medically unfit. Digger accompanied him as strict
quarantine regulations relating to the arrival of dogs in Australia from overseas did not come into force until June 1918. He and Digger settled in Sydney. Upon their return to Australia, Sergeant Martin and Digger continued to do their bit for the war effort by attending ceremonies and marches in support of recruitment, fundraising and returning men. Digger having been wounded and gassed at Pozieres in 1916 needed cod liver oil for his burns. This was expensive so a picture postcard of Digger, wearing the inscribed silver collar made for him on his return to Australia, with patriotic red, white and blue ribbons attached to it, was produced and the money realized from its sale used to buy the oil. It is said that the dog was also presented with a free tram and rail pass so that he could accompany Martin. Digger died, as an old dog, on Empire Day (24 May - year not known) when he was frightened by the
celebratory fireworks. Thinking he was under fire again he attempted to jump the fence but failed and fell back with a burst blood vessel. Digger managed to crawl back into the house and died on Martin's bed.
Bill
Bill the Bastard' was a 'Waler', a hardy type of horse bred under the extreme climate and challenging working conditions of Australia. Bill was a massive 17.1 hands high, weighed approximately 730 kg and had strength and intelligence unmatched by any others of his breed. Bill showed courage, endurance and strength that became legendary. He had only one problem – he was the most cantankerous horse that had ever been encountered by the Light horsemen. Bill met his match when he met Major Michael Shanahan, a 46 year old builder from Roma in Queensland. Major Shanahan won the horse's respect and trust with gentleness, perseverance and a large quantity of liquorice allsorts. Major Shanahan and Bill fought together, depending on each other for their survival. It was August 4, 1916, the noise of the battlefield at 2 am was deafening as the Australians fought the Turks in one of the most important battles – the Battle of Romani, the turning point of the war in the Middle East. The Australians were severely outnumbered with a force of 1,700 troopers pitched against 26,000 Turks, and when the chips were down, Bill's heroic efforts and exceptional instincts in battle, saved the lives of his rider and four other troopers at the Battle of Romani. Bill carried the 4 Tasmanian troops over 3km to safety from the Turkish Soldiers. Later in the battle of Romani, Shanahan was shot in the leg and passed out. Bill, sensing that his rider was unconscious, carried Shanahan three kilometres to medical aid.
Both medals are being individually made in the UK and will be presented to the Great Grandson of Sgt Martin- Diggers WWI handler and to the Bill the Bastard memorial by AWAMO President Nigel Allsopp.