Page 4 - Doerr Valuations Brochure 2019
P. 4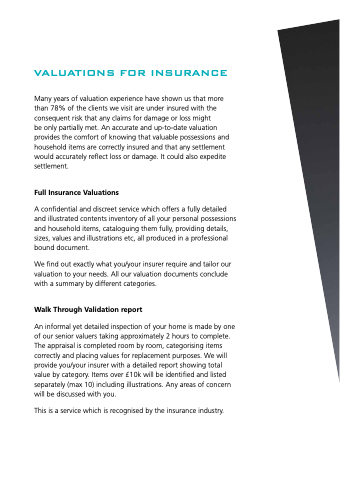 VALUATIONS FOR INSURANCE
Many years of valuation experience have shown us that more than 78% of the clients we visit are under insured with the consequent risk that any claims for damage or loss might
be only partially met. An accurate and up-to-date valuation provides the comfort of knowing that valuable possessions and household items are correctly insured and that any settlement would accurately reflect loss or damage. It could also expedite settlement.
Full Insurance Valuations
A confidential and discreet service which offers a fully detailed and illustrated contents inventory of all your personal possessions and household items, cataloguing them fully, providing details, sizes, values and illustrations etc, all produced in a professional bound document.
We find out exactly what you/your insurer require and tailor our valuation to your needs. All our valuation documents conclude with a summary by different categories.
Walk Through Validation report
An informal yet detailed inspection of your home is made by one of our senior valuers taking approximately 2 hours to complete. The appraisal is completed room by room, categorising items correctly and placing values for replacement purposes. We will provide you/your insurer with a detailed report showing total value by category. Items over £10k will be identified and listed separately (max 10) including illustrations. Any areas of concern will be discussed with you.
This is a service which is recognised by the insurance industry.