Page 12 - The ALEC Gazette-2018
P. 12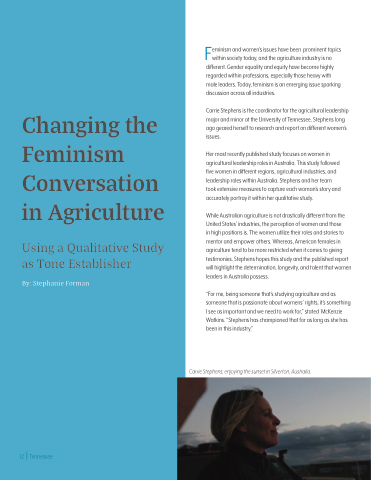 Changing the Feminism Conversation in Agriculture
Using a Qualitative Study as Tone Establisher
By: Stephanie Forman
 12 Tennessee
Feminism and women's issues have been prominent topics within society today, and the agriculture industry is no different. Gender equality and equity have become highly
regarded within professions, especially those heavy with male leaders. Today, feminism is an emerging issue sparking discussion across all industries.
Carrie Stephens is the coordinator for the agricultural leadership major and minor at the University of Tennessee. Stephens long ago geared herself to research and report on different women's issues.
Her most recently published study focuses on women in agricultural leadership roles in Australia. This study followed five women in different regions, agricultural industries, and leadership roles within Australia. Stephens and her team took extensive measures to capture each woman's story and accurately portray it within her qualitative study.
While Australian agriculture is not drastically different from the United States' industries, the perception of women and those
in high positions is. The women utilize their roles and stories to mentor and empower others. Whereas, American females in agriculture tend to be more restricted when it comes to giving testimonies. Stephens hopes this study and the published report will highlight the determination, longevity, and talent that women leaders in Australia possess.
"For me, being someone that's studying agriculture and as someone that is passionate about womens' rights, it's something I see as important and we need to work for," stated McKenzie Watkins. "Stephens has championed that for as long as she has been in this industry."
Carrie Stephens, enjoying the sunset in Silverton, Australia.