Page 37 - Alta Inspiration
P. 37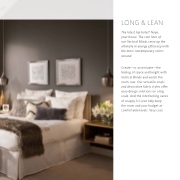 LONG & LEAN
The latest hip hotel? Nope,
your house. The cool lines of
our Vertical Blinds serve up the ultimate in energy efficiency with the most contemporary colors around.
Create—or accentuate—the feeling of space and height with Vertical Blinds and watch the room soar. Our versatile vinyls and decorative fabric styles ofer easy design solutions on a big scale. And the interlocking vanes of snappy S-Curve help keep
the room and your budget at comfortable levels. Very cool.