Page 124 - Classical Singer magazine 2019 Fall University Issue
P. 124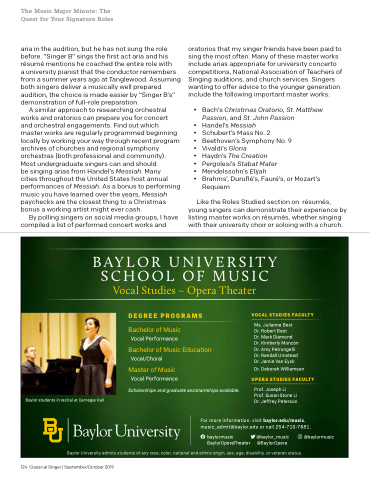 The Music Major Minute: The Quest for Your Signature Roles
aria in the audition, but he has not sung the role before. "Singer B" sings the first act aria and his résumé mentions he coached the entire role with
a university pianist that the conductor remembers from a summer years ago at Tanglewood. Assuming both singers deliver a musically well prepared audition, the choice is made easier by "Singer B's" demonstration of full-role preparation.
A similar approach to researching orchestral works and oratorios can prepare you for concert and orchestral engagements. Find out which master works are regularly programmed beginning locally by working your way through recent program archives of churches and regional symphony orchestras (both professional and community). Most undergraduate singers can and should
be singing arias from Handel's Messiah. Many
cities throughout the United States host annual performances of Messiah. As a bonus to performing music you have learned over the years, Messiah paychecks are the closest thing to a Christmas bonus a working artist might ever cash.
By polling singers on social media groups, I have compiled a list of performed concert works and
oratorios that my singer friends have been paid to sing the most often. Many of these master works include arias appropriate for university concerto competitions, National Association of Teachers of Singing auditions, and church services. Singers wanting to offer advice to the younger generation include the following important master works:
• Bach's Christmas Oratorio, St. Matthew Passion, and St. John Passion
• Handel's Messiah
• Schubert's Mass No. 2
• Beethoven's Symphony No. 9
• Vivaldi's Gloria
• Haydn's The Creation
• Pergolesi's Stabat Mater
• Mendelssohn's Elijah
• Brahms', Duruflé's, Fauré's, or Mozart's
Requiem
Like the Roles Studied section on résumés, young singers can demonstrate their experience by listing master works on résumés, whether singing with their university choir or soloing with a church.
124 Classical Singer | September/October 2019
BAYLOR UNIVERSITY SCHOOL OF MUSIC
Vocal Studies – Opera Theater
DEGREE PROGRAMS
Bachelor of Music
Vocal Performance
Bachelor of Music Education
Vocal/Choral
Master of Music
Vocal Performance
Scholarships and graduate assistantships available.
VOCAL STUDIES FACULTY
Ms. Julianne Best
Dr. Robert Best
Dr. Mark Diamond
Dr. Kimberly Monzón Dr. Amy Petrongelli
Dr. Randall Umstead Dr. Jamie Van Eyck
Dr. Deborah Williamson
OPERA STUDIES FACULTY
Prof. Joseph Li Prof. Susan Stone Li Dr. Jeffrey Peterson
Baylor students in recital at Carnegie Hall
For more information, visit baylor.edu/music, music_admit@baylor.edu or call 254-710-7681.
 baylormusic   @baylor_music  @baylormusic BaylorOperaTheater @BaylorOpera
Baylor University admits students of any race, color, national and ethnic origin, sex, age, disability, or veteran status.