Page 48 - Classical Singer magazine 2019 Fall University Issue
P. 48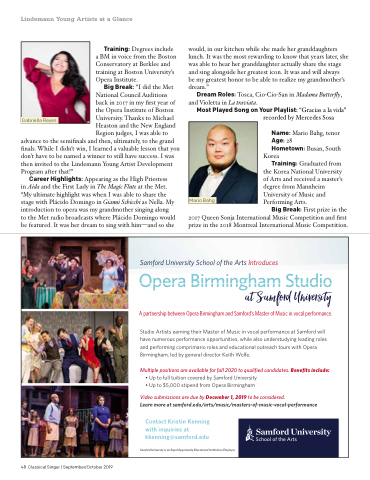 Lindemann Young Artists at a Glance
Training: Degrees include a BM in voice from the Boston Conservatory at Berklee and training at Boston University's Opera Institute.
Big Break: "I did the Met National Council Auditions back in 2017 in my  rst year of the Opera Institute of Boston University. Thanks to Michael Heaston and the New England Region judges, I was able to
advance to the semi nals and then, ultimately, to the grand  nals. While I didn't win, I learned a valuable lesson that you don't have to be named a winner to still have success. I was then invited to the Lindemann Young Artist Development Program after that!"
Career Highlights: Appearing as the High Priestess
in Aida and the First Lady in The Magic Flute at the Met. "My ultimate highlight was when I was able to share the stage with Plácido Domingo in Gianni Schicchi as Nella. My introduction to opera was my grandmother singing along to the Met radio broadcasts where Plácido Domingo would be featured. It was her dream to sing with him—and so she
would, in our kitchen while she made her granddaughters lunch. It was the most rewarding to know that years later, she was able to hear her granddaughter actually share the stage and sing alongside her greatest icon. It was and will always
be my greatest honor to be able to realize my grandmother's dream."
Dream Roles: Tosca, Cio-Cio-San in Madama Butter y, and Violetta in La traviata.
Most Played Song on Your Playlist: "Gracias a la vida" recorded by Mercedes Sosa
Name: Mario Bahg, tenor Age: 28
Hometown: Busan, South
Korea
Training: Graduated from
the Korea National University of Arts and received a master's degree from Mannheim University of Music and Performing Arts.
Big Break: First prize in the 2017 Queen Sonja International Music Competition and  rst prize in the 2018 Montreal International Music Competition.
Gabriella Reyes
Mario Bahg
Samford University School of the Arts Introduces
Opera Birmingham Studio
A partnership between Opera Birmingham and Samford's Master of Music in vocal performance.
Studio Artists earning their Master of Music in vocal performance at Samford will have numerous performance opportunities, while also understudying leading roles and performing comprimario roles and educational outreach tours with Opera Birmingham, led by general director Keith Wolfe.
Multiple positions are available for fall 2020 to qualified candidates. Benefits include: • Up to full tuition covered by Samford University
• Up to $5,000 stipend from Opera Birmingham
Video submissions are due by December 1, 2019 to be considered.
Learn more at samford.edu/arts/music/masters-of-music-vocal-performance
Contact Kristin Kenning with inquiries at kkenning@samford.edu
at Samford University
48 Classical Singer | September/October 2019
Samford University is an Equal Opportunity Educational Institution/Employer
r.
.