Page 18 - LA-XV LONG BEACH EBOOK 2019
P. 18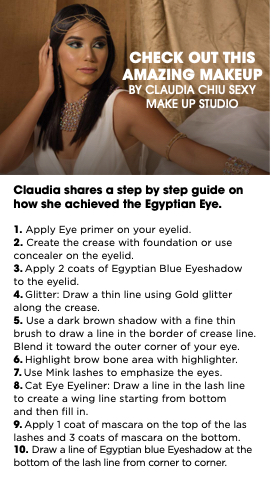 CHECK OUT THIS
AMAZING MAKEUP
BY CLAUDIA CHIU SEXY MAKE UP STUDIO
 Claudia shares a step by step guide on how she achieved the Egyptian Eye.
1. Apply Eye primer on your eyelid.
2. Create the crease with foundation or use concealer on the eyelid.
3. Apply 2 coats of Egyptian Blue Eyeshadow
to the eyelid.
4. Glitter: Draw a thin line using Gold glitter along the crease.
5. Use a dark brown shadow with a fine thin brush to draw a line in the border of crease line. Blend it toward the outer corner of your eye.
6. Highlight brow bone area with highlighter.
7. Use Mink lashes to emphasize the eyes.
8. Cat Eye Eyeliner: Draw a line in the lash line to create a wing line starting from bottom
and then fill in.
9. Apply 1 coat of mascara on the top of the las lashes and 3 coats of mascara on the bottom. 10. Draw a line of Egyptian blue Eyeshadow at the bottom of the lash line from corner to corner.