Page 21 - LA-XV LONG BEACH EBOOK 2019
P. 21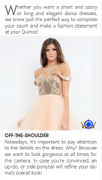 Whether you want a short and sassy or long and elegant dama dresses, we know just the perfect way to complete
your court and make a fashion statement at your Quince!
               OFF-THE-SHOULDER
Nowadays, it's important to pay attention to the details on the dress. Why? Because we want to look gorgeous at all times for the camera. In case you're convinced, an up-do, or side ponytail will refine your da- ma's overall look!