Page 63 - The Guidebook of Cape Cod - June 2019
P. 63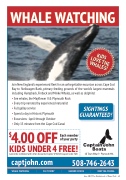 WHALE WATCHING
Join New England's experienced eet for for an an an unforgettable excursion across Cape Cod Bay to Stellwagen Bank primary feeding grounds of the world's largest mammals including Humpback Finback and Minke Whales as as well as as dolphins!
• See whales the May ower II & Plymouth Rock • Every trip narrated by experienced naturalist • Full galley service
• Spend a a day in Historic Plymouth • Excursions - April through October
• Only 15 minutes from the Cape Cod Canal
SIGHTINGS GUARANTEED!
$4 00 OFF Each member of your party
KIDS UNDER 4 4 FREE!
Cannot be combined with other discounts Expires 9/30/18 Coupon Code: TGB
captjohn com 508-746-2643
10 Town Wharf • Plymouth MA
WHALE WATCHING
| | | FAST FERRY | | | HARBOR CRUISE | | | DEEP SEA FISHING
June 2019 The Guidebook of Cape Cod • 63
KIDS LOVE THE WHALES!