Page 20 - Clinton Township Recreation - Fall 2021
P. 20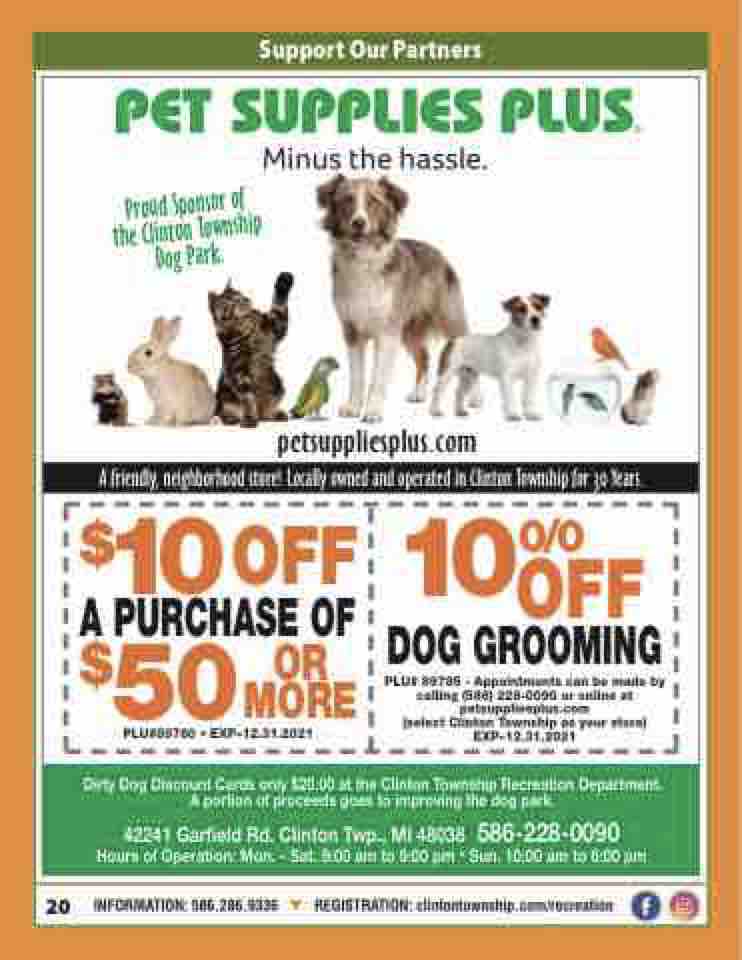 Support Our Partners
                                 petsuppliesplus.com
 A friendly, neighborhood store! Locally owned and operated in Clinton Township for 30 Years.
      $ OFF 10
A PURCHASE OF
MORE 50
PLU#89780 • EXP–12.31.2021
100/0 OFF
DOG GROOMING
PLU# 89785 - Appointments can be made by calling (586) 228-0090 or online at petsuppliesplus.com
(select Clinton Township as your store) EXP–12.31.2021
$
OR
    Dirty Dog Discount Cards only $20.00 at the Clinton Township Recreation Department. A portion of proceeds goes to improving the dog park.
42241GarfieldRd.ClintonTwp.,MI48038 586-228-0090 Hours of Operation: Mon. - Sat. 9:00 am to 9:00 pm • Sun. 10:00 am to 6:00 pm
  20
INFORMATION: 586.286.9336 t REGISTRATION: clintontownship.com/recreation
    Proud Sponsor of the Clinton Township Dog Park.