Page 41 - August 2019
P. 41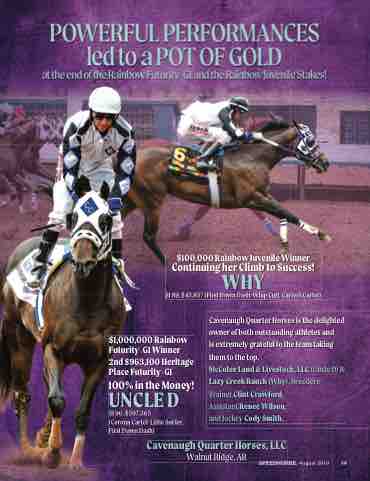 $100,000 Rainbow Juvenile Winner Continuing her Climb to Success!
  WHY
 SI 89, $43,857 (First Down Dash-Whip Curl, Carters Cartel)
$1,000,000 Rainbow Futurity-G1 Winner
2nd $963,100 Heritage Place Futurity-G1
   100% in the Money!
UNCLE D
SI 96, $597,365
(Corona Cartel-Little Surfer, First Down Dash)
Cavenaugh Quarter Horses, LLC
  Walnut Ridge, AR
SPEEDHORSE, August 2019 39
    Cavenaugh Quarter Horses is the delighted owner of both outstanding athletes and
is extremely grateful to the team taking them to the top.
McColee Land & Livestock, LLC (Uncle D) & Lazy Creek Ranch (Why), Breeders Trainer Clint Crawford,
Assistant Renee Wilson,
and Jockey Cody Smith.