Page 50 - August 2019
P. 50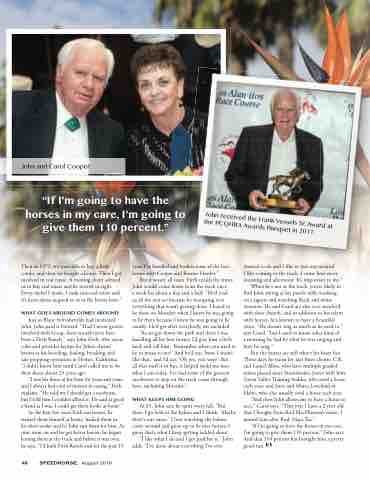 John and Carol Cooper
                                     "If I'm going to have the horses in my care, I'm going to give them 110 percent."
       Then in 1972, we were able to buy a little condo, and then we bought a house. Then I got involved in real estate. A training client advised us to buy real estate and he steered us right. Every nickel I made, I sunk into real estate and it's been about as good to us as the horses have."
WHAT GOES AROUND COMES AROUND
Just as Blane Schvaneveldt had mentored John, John paid it forward. "Had I never gotten involved with Coop, there would never have been a Firth Ranch," says John Firth, who starts colts and provides layups for John's clients' horses at his breeding, foaling, breaking and sale prepping operation in Hemet, California. "I didn't know him until Carol called me to be their shoer about 25 years ago.
"I was his shoer at his farm for years and years, and I always had a lot of interest in racing," Firth explains. "He told me I should get a racehorse, but I told him I couldn't afford it. He said as good a hand as I was, I could get them broke at home."
So the first few years Firth ran horses, he trained them himself at home, hauled them in for their works and let John run them for him. As time went on and he got better horses, he began leaving them at the track and before it was over, he says, "I'd built Firth Ranch and for the past 15
years I've handled and broken some of the best horses with Cooper and Ronnie Hartley."
But it wasn't all roses. Firth recalls the times John would come home from the track once
a week for about a day and a half. "He'd read us all the riot act because he was going over everything that wasn't getting done. I hated to be there on Monday when I knew he was going to be there because I knew he was going to be cranky. He'd get after everybody, me included.
"As we got down the path and there I was handling all his best horses, I'd give him a little heck and tell him, 'Remember when you used to be so mean to me?' And he'd say, 'Aww, I wasn't like that,' and I'd say, 'Oh yes, you were.' But
all that stuff is in fun; it helped mold me into what I am today. I've had some of the greatest racehorses to step on the track come through here, including Moonist."
WHAT KEEPS HIM GOING
At 81, John says he quits every fall, "But then, I go look at the babies and I think, 'Maybe there's one more.' I love watching the babies come around and grow up to be nice horses; I guess that's what I keep getting tickled about.
"I like what I do and I get paid for it," John adds. "I've done about everything I've ever
wanted to do and I like to just stay around.
I like coming to the track. I come here every morning and afternoon. It's important to me."
When he's not at the track, you're likely to find John sitting at his puzzle table working on a jigsaw and watching black and white westerns. He and Carol are also very involved with their church, and in addition to his talent with horses, he's known to have a beautiful voice. "He doesn't sing as much as he used to," says Carol, "but I used to know what kind of
a morning he had by what he was singing and how he sang."
But the horses are still where his heart lies. These days he trains for just three clients: C.K. and Laurel Allen, who have multiple graded stakes placed mare Strawfinders Jessee with him; Green Valley Training Stables, who send a horse each year; and Jerry and Marta Loveland in Idaho, who also usually send a horse each year.
"And then John allows me to have a horse to race," Carol says. "This year I have a 2 year old that I bought from Rod MacPherson's estate. I named him after Rod: Macs Tac."
"If I'm going to have the horses in my care, I'm going to give them 110 percent," John says. And that 110 percent has brought him a pretty good run.
 48 SPEEDHORSE, August 2019
John received the Frank Vessels Sr. Award at the PCQHRA Awards Banquet in 2017.