Page 90 - August 2019
P. 90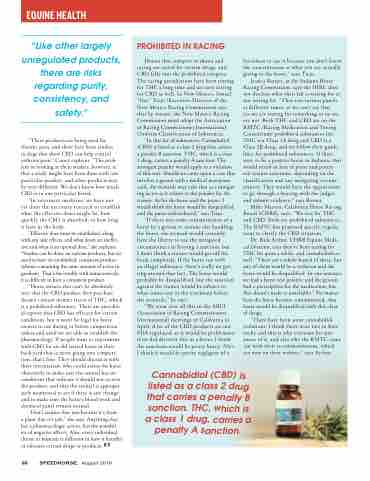 PROHIBITED IN RACING
Horses that compete in shows and racing are tested for certain drugs, and CBD falls into the prohibited category. The racing jurisdictions have been testing for THC a long time and are now testing for CBD as well. In New Mexico, Ismael "Izzy" Trejo (Executive Director of the New Mexico Racing Commission) says that by statute, the New Mexico Racing Commission must adopt the Association of Racing Commissioner International Uniform Classification of Substances.
"In this list of substances, Cannabidiol (CBD) is listed as a class 2 drug that carries
a penalty B sanction. THC, which is a class 1 drug, carries a penalty A sanction. The strongest penalty would apply to a violation of this sort. Should we come upon a case that involves a groom with a medical marijuana card, the stewards may take that as a mitigat- ing factor as it relates to the penalty for the trainer. As for the horse and the purse, I would think the horse would be disqualified and the purse redistributed," says Trejo.
"If there was some contamination of a horse by a groom or anyone else handling the horse, the steward would certainly have the liberty to use the mitigated circumstances in levying a sanction, but
I don't think a trainer would get off the hook completely. If the horse ran with
an illegal substance, there's really no get- ting around that fact. The horse would probably be disqualified, but the sanction against the trainer would be subject to what comes out in the testimony before the stewards," he says.
"We went over all this in the ARCI (Association of Racing Commissioners International) meetings in California in April. A lot of the CBD products are not FDA regulated, so it would be problematic
horseman to use it because you don't know the concentration or what you are actually giving to the horse," says Trejo.
Jessica Barnes, at the Indiana Horse Racing Commission, says the IHRC does not disclose what their lab is testing for or not testing for. "They run various panels at different times, so we can't say that
yes we are testing for something or no we are not. Both THC and CBD are on the RMTC (Racing Medication and Testing Consortium) prohibited substances list. THCisaClass1AdrugandCBDisa Class 2B drug, and we follow their guide- lines for prohibited substances. If there were to be a positive horse in Indiana, that would result in loss of purse and poten- tial trainer sanctions, depending on the classification and any mitigating circum- stances. They would have the opportunity to go through a hearing with the judges and submit evidence," says Barnes.
Mike Marten, California Horse Racing Board (CHRB), says, "We test for THC and CBD. Both are prohibited substances. The RMTC has proposed specific regula- tions to clarify the CBD situation."
Dr. Rick Arthur, CHRB Equine Medi- cal Director, says they've been testing for THC for quite a while, and cannabidiols as well. "There are a whole bunch of these, but any of them would be a violation and the horse would be disqualified. In one instance we had a horse test positive and the groom had a prescription for the medication, but that doesn't make it justifiable." No matter how the horse became contaminated, that horse would be disqualified with this class of drugs.
"There have been some cannabidiol violations; I think there were two in Ken- tucky and this is why everyone became aware of it, and also why the RMTC came out with their recommendations, which are now on their website," says Arthur.
h if we did discover this in a horse; I th
. the sanctions would be pretty heavy.
o I think it would be pretty negligent o
i i
A A
n n
k k
        l l
f f
s s
o o
, ,
  a a
                          "Like other largely unregulated products, there are risks regarding purity, consistency, and safety."
"These products are being used for chronic pain, and there have been studies
in dogs that show CBD can help control arthritis pain," Coney explains. "The prob- lem in looking at these studies, however, is that a study might have been done with one particular product, and other products may be very different. We don't know how much CBD is in any particular brand.
"In veterinary medicine, we have not yet done the necessary research to establish what the effective doses might be, how quickly the CBD is absorbed, or how long it lasts in the body.
"Effective dose must be established, along with any side effects, and what doses are ineffec- tive and what is an optimal dose," she explains. "Studies can be done on various products, but we need to have an established, consistent product (always containing the same amount of active in- gredient). That's the trouble with nutraceuticals; it is difficult to have a consistent product.
"Horse owners also can't be absolutely sure that the CBD product they purchase doesn't contain minute traces of THC, which is a prohibited substance. There are anecdot- al reports that CBD has efficacy for certain conditions, but it won't be legal for horse owners to use during or before competition unless and until we are able to establish the pharmacology. If people want to experiment with CBD for an old retired horse in their back yard that is never going into competi- tion, that's fine. They should discuss it with their veterinarian, who could assess the horse objectively to make sure the animal has no conditions that indicate it should not receive the product, and that the animal is appropri- ately monitored to see if there is any change, and to make sure the horse's blood work and chemical panel remain normal.
"Don't assume that just because it's from
a plant that it's safe," she says. Anything that has a pharmacologic action, has the possibil- ity of negative effects. Also, every individual (horse or human) is different in how it handles or tolerates certain drugs or products.
  88 SPEEDHORSE, August 2019
 EQUINE HEALTH
Cannabidiol (CBD) is listed as a class 2 drug that carries a penalty B sanction. THC, which is a class 1 drug, carries a penalty A sanction.