Page 110 - March 2020
P. 110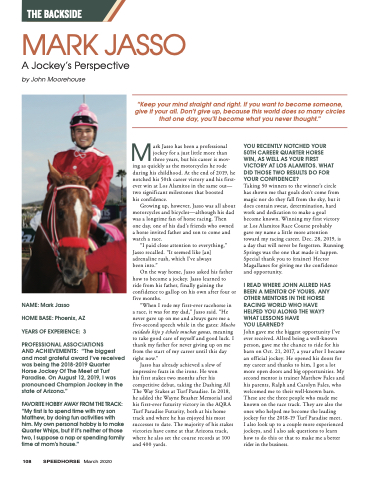 THE BACKSIDE
MARK JASSO
A Jockey's Perspective
by John Moorehouse
NAME: Mark Jasso HOME BASE: Phoenix, AZ YEARS OF EXPERIENCE: 3
PROFESSIONAL ASSOCIATIONS
AND ACHIEVEMENTS: "The biggest and most grateful award I've received was being the 2018-2019 Quarter Horse Jockey Of The Meet at Turf Paradise. On August 12, 2019, I was pronounced Champion Jockey in the state of Arizona."
FAVORITE HOBBY AWAY FROM THE TRACK: "My first is to spend time with my son Matthew, by doing fun activities with him. My own personal hobby is to make Quarter Whips, but if it's neither of those two, I suppose a nap or spending family time at mom's house."
"Keep your mind straight and right. If you want to become someone, give it your all. Don't give up, because this world does so many circles that one day, you'll become what you never thought."
   108 SPEEDHORSE March 2020
Mark Jasso has been a professional jockey for a just little more than three years, but his career is mov-
ing as quickly as the motorcycles he rode during his childhood. At the end of 2019, he notched his 50th career victory and his first- ever win at Los Alamitos in the same out— two significant milestones that boosted
his confidence.
Growing up, however, Jasso was all about motorcycles and bicycles—although his dad was a longtime fan of horse racing. Then one day, one of his dad's friends who owned a horse invited father and son to come and watch a race.
"I paid close attention to everything," Jasso recalled. "It seemed like [an] adrenaline rush, which I've always
been into."
On the way home, Jasso asked his father how to become a jockey. Jasso learned to ride from his father, finally gaining the confidence to gallop on his own after four or five months.
"When I rode my first-ever racehorse in
a race, it was for my dad," Jasso said. "He never gave up on me and always gave me a five-second speech while in the gates: Mucho cuidado hijo y échale muchas ganas, meaning to take good care of myself and good luck. I thank my father for never giving up on me from the start of my career until this day right now."
Jasso has already achieved a slew of impressive feats in the irons. He won
his first stakes two months after his competitive debut, taking the Dashing All The Way Stakes at Turf Paradise. In 2018, he added the Wayne Brasher Memorial and his first-ever futurity victory in the AQRA Turf Paradise Futurity, both at his home track and where he has enjoyed his most successes to date. The majority of his stakes victories have come at that Arizona track, where he also set the course records at 100 and 400 yards.
YOU RECENTLY NOTCHED YOUR 50TH CAREER QUARTER HORSE WIN, AS WELL AS YOUR FIRST VICTORY AT LOS ALAMITOS. WHAT DID THOSE TWO RESULTS DO FOR YOUR CONFIDENCE?
Taking 50 winners to the winner's circle has shown me that goals don't come from magic nor do they fall from the sky, but it does contain sweat, determination, hard work and dedication to make a goal become known. Winning my first victory at Los Alamitos Race Course probably
gave my name a little more attention toward my racing career. Dec. 28, 2019, is a day that will never be forgotten. Running Springs was the one that made it happen. Special thank you to (trainer) Hector Magallanes for giving me the confidence and opportunity.
I READ WHERE JOHN ALLRED HAS BEEN A MENTOR OF YOURS. ANY OTHER MENTORS IN THE HORSE RACING WORLD WHO HAVE HELPED YOU ALONG THE WAY? WHAT LESSONS HAVE
YOU LEARNED?
John gave me the biggest opportunity I've ever received. Allred being a well-known person, gave me the chance to ride for his barn on Oct. 21, 2017, a year after I became an official jockey. He opened his doors for my career and thanks to him, I got a lot more open doors and big opportunities. My second mentor is trainer Matthew Fales and his parents, Ralph and Carolyn Fales, who welcomed me to their well-known barn. These are the three people who made me known on the race track. They are also the ones who helped me become the leading jockey for the 2018-19 Turf Paradise meet. I also look up to a couple more experienced jockeys, and I also ask questions to learn how to do this or that to make me a better rider in the business.