Page 57 - Aqua Lung 2019 catalogue produits
P. 57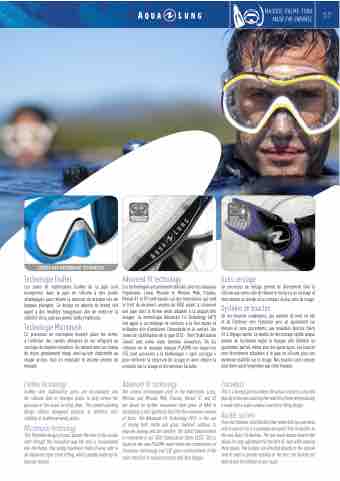 MASQUE-PALME-TUBA
MASK-FIN-SNORKEL
57
                      EXOHEX AND MICROMASK TECHNOLOGY
Technologie ExoHex
Les zones de stabilisation ExoHex de la jupe sont incorporées dans la jupe en silicone à des points stratégiques pour réduire la pression du masque lors de longues plongées. Ce design en attente de brevet fait appel à des modèles hexagonaux afin de renforcer la stabilité de la jupe aux points faibles habituels.
Technologie Micromask
Ce processus de conception breveté place les verres à l'intérieur des cavités orbitaires en les intégrant au cerclage de manière novatrice. On obtient ainsi un champ de vision grandement élargi ainsi qu'une étanchéité au visage accrue, tout en réduisant le volume interne du masque.
ExoHex technology
ExoHex skirt stabilization zones are incorporated into the silicone skirt at strategic points to help relieve the pressure of the mask on long dives. This patent-pending design utilizes hexagonal patterns to reinforce skirt stability at traditional weak points.
Micromask technology
This Patented design process places the lens in the ocular orbit through the innovative way the lens is incorporated into the frame. This vastly maximises field-of-view, aids in an improved super close fitting, whilst greatly reducing its internal volume.
Advanced fit technology
Les technologies actuellement utilisées pour les masques Impression, Linea, Mission et Mission Midi, Plazma, Reveal X1 et X2 sont basées sur des innovations qui sont le fruit de plusieurs années de R&D visant à concevoir une jupe dont la forme serait adaptée à la plupart des visages. La technologie Advanced Fit Technology (AFT) fait appel à un mélange de surfaces à la fois mates et brillantes afin d'améliorer l'étanchéité et le confort. Les zones de stabilisation de la jupe (SSZ - Skirt Stabilization Zones) sont notre toute dernière innovation. On les retrouve sur le nouveau masque PLAZMA sur lequel les SSZ sont associées à la technologie « sans cerclage » pour renforcer la structure de la jupe et ainsi réduire la pression sur le visage et les tensions faciales.
Advanced fit technology
The current technologies used in the Impression, Linea, Mission and Mission Midi, Plazma, Reveal X1 and X2 are based on further innovation from years of R&D in developing a skirt geometry that fits the maximum amount of faces. The Advanced Fit Technology (AFT), is the use of mixing both matte and gloss textured surfaces to improve sealing and aid comfort. The latest advancement in innovation is our Skirt Stabilization Zones (SSZ). This is found on the new PLAZMA mask where the combination of Frameless technology and SSZ gives reinforcement of the skirt structure to reduce pressure and face fatigue.
Sans cerclage
Un processus de collage permet de directement fixer la silicone aux verres afin de réduire le recours à un cerclage et ainsi obtenir un design ultra-compact et plus près du visage.
Système de boucles
De nos boucles cardaniques, qui pivotent de haut en bas et de l'intérieur vers l'extérieur pour un ajustement sur mesure et sans pincements, aux nouvelles boucles Quick Fit à réglage rapide. Le bouton de décrochage rapide unique permet de facilement régler le masque afin d'obtenir un ajustement parfait, même avec des gants épais. Les boucles sont directement attachées à la jupe en silicone pour une meilleure stabilité sur le visage. Nos boucles sont conçues pour durer aussi longtemps que votre masque.
 Frameless
This is a bonded process where the actual silicone is attached directly to the lens reducing the need for a frame and producing a mask with a super compact and close fitting design.
Buckle system
From the Cardanic Joint Buckles that rotate both up-and-down and in-and-out for a customized and pinch-free fit buckles to the new Quick Fit Buckles. The one-touch button release that allows for easy adjustment for the best fit, even while wearing thick gloves. The buckles are attached directly to the silicone skirt in order to provide stability on the face. Our buckles are built to last the lifetime of your mask.