Page 35 - AreaNewsletters "May 2021" issue
P. 35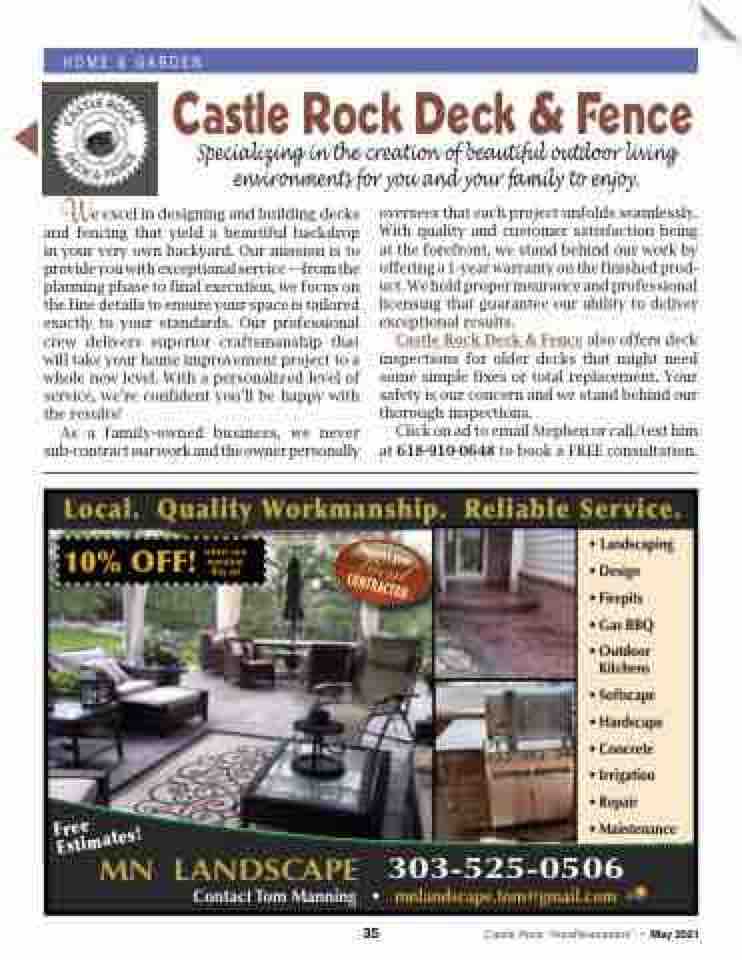 HOME & GARDEN
Castle Rock Deck & Fence
Specializing in the creation of beautiful outdoor living environments for you and your family to enjoy.
We excel in designing and building decks and fencing that yield a beautiful backdrop in your very own backyard. Our mission is to provide you with exceptional service ––from the planning phase to final execution, we focus on the fine details to ensure your space is tailored exactly to your standards. Our professional crew delivers superior craftsmanship that will take your home improvement project to a whole new level. With a personalized level of service, we're confident you'll be happy with the results!
As a family-owned business, we never sub-contract our work and the owner personally
oversees that each project unfolds seamlessly. With quality and customer satisfaction being at the forefront, we stand behind our work by offering a 1-year warranty on the finished prod- uct. We hold proper insurance and professional licensing that guarantee our ability to deliver exceptional results.
Castle Rock Deck & Fence also offers deck inspections for older decks that might need some simple fixes or total replacement. Your safety is our concern and we stand behind our thorough inspections.
Click on ad to email Stephen or call/text him at 618-910-0648 to book a FREE consultation.
Local. Quality Workmanship. Reliable Service.
10% OFF! when you this ad
mention
303-525-0506 Contact Tom Manning • mnlandscape.tom@gmail.com
MN LANDSCAPE
• Landscaping
• Design
• Firepits
• Gas BBQ
• Outdoor Kitchens
• Softscape
• Hardscape
• Concrete
• Irrigation
• Repair
• Maintenance
35
Castle Rock "AreaNewsletters" • May 2021
Support your
Local
CONTRACTOR
Free Estimates!