Page 52 - AreaNewsletters "May 2021" issue
P. 52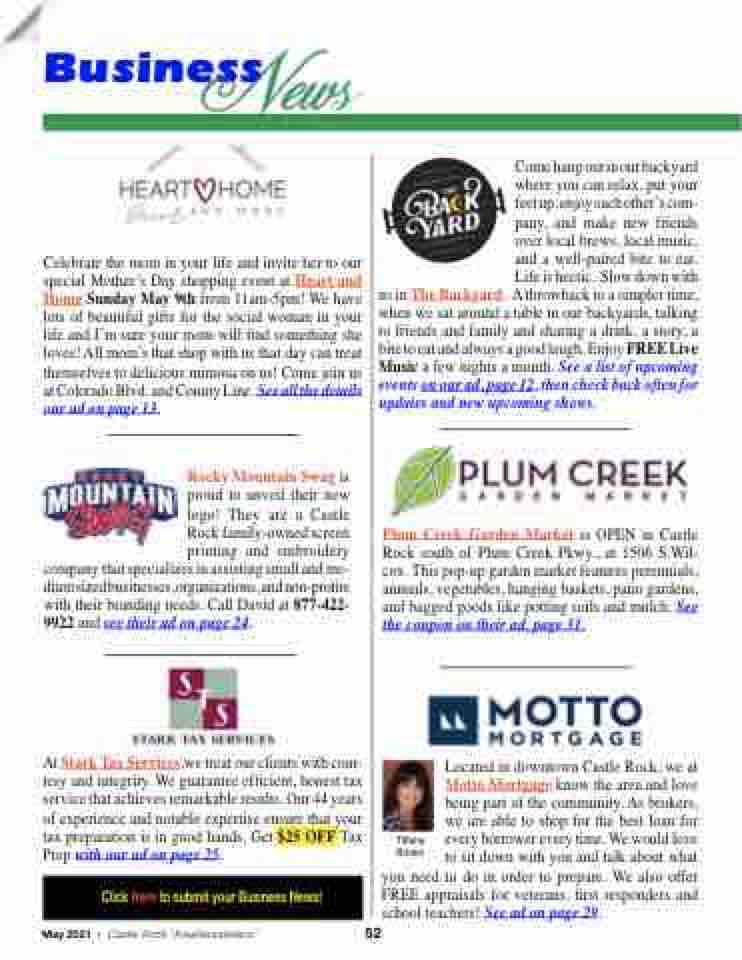 Business
News
Celebrate the mom in your life and invite her to our special Mother's Day shopping event at Heart and Home Sunday May 9th from 11am-5pm! We have lots of beautiful gifts for the social woman in your life and I'm sure your mom will  nd something she loves! All mom's that shop with us that day can treat themselves to delicious mimosa on us! Come join us at Colorado Blvd. and County Line. See all the details our ad on page 13.
Come hang out in our backyard where you can relax, put your feet up, enjoy each other's com- pany, and make new friends over local brews, local music, and a well-paired bite to eat. Lifeishectic. Slowdownwith
us in The Backyard. A throwback to a simpler time, when we sat around a table in our backyards, talking to friends and family and sharing a drink, a story, a bite to eat and always a good laugh. Enjoy FREE Live Music a few nights a month. See a list of upcoming events on our ad, page 12, then check back often for updates and new upcoming shows.
Rocky Mountain Swag is proud to unveil their new logo! They are a Castle Rock family-owned screen printing and embroidery
Plum Creek Garden Market is OPEN in Castle Rock south of Plum Creek Pkwy., at 1506 S.Wil- cox. This pop-up garden market features perennials, annuals, vegetables, hanging baskets, patio gardens, and bagged goods like potting soils and mulch. See the coupon on their ad, page 31.
company that specializes in assisting small and me- dium sized businesses, organizations, and non-pro ts with their branding needs. Call David at 877-422- 9922 and see their ad on page 24.
At Stark Tax Services,we treat our clients with cour- tesy and integrity. We guarantee ef cient, honest tax service that achieves remarkable results. Our 44 years of experience and notable expertise ensure that your tax preparation is in good hands. Get $25 OFF Tax Prep with our ad on page 25.
Click Here to submit your Business News!
May 2021 • Castle Rock "AreaNewsletters" 52
Tiffany Brown
Located in downtown Castle Rock, we at Motto Mortgage know the area and love being part of the community. As brokers, we are able to shop for the best loan for every borrower every time. We would love to sit down with you and talk about what
you need to do in order to prepare. We also offer FREE appraisals for veterans,  rst responders and school teachers! See ad on page 29.