Page 26 - AreaNewsletters "Nov 2020" issue
P. 26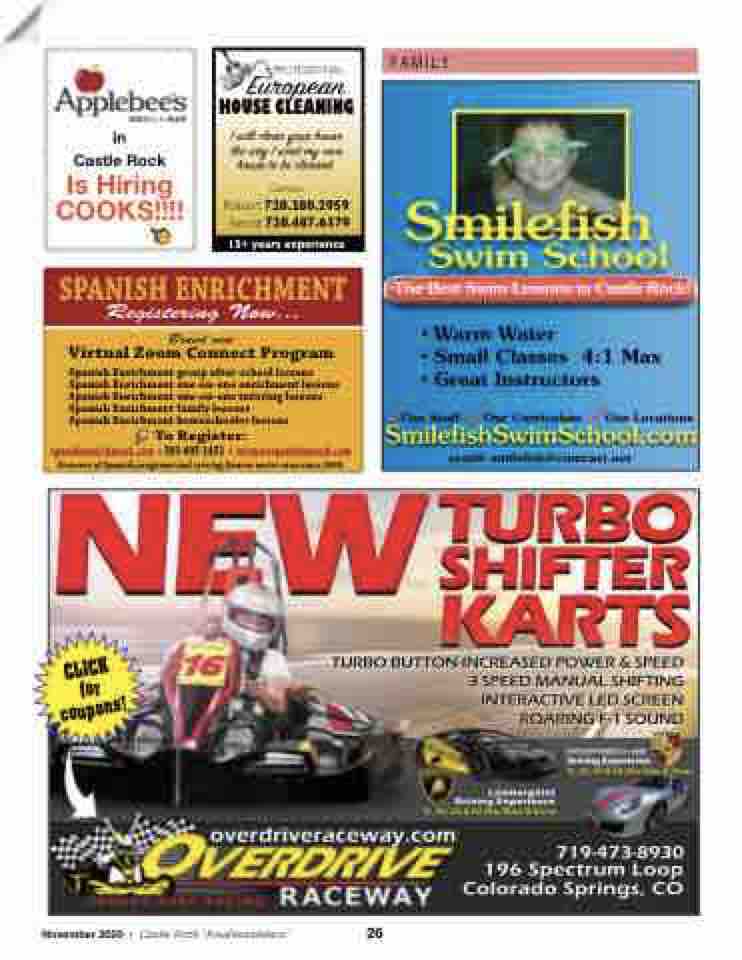 PROFESSIONAL
E  ean
HOUSE CLEANING
I will clean y r h se the way I want my  n h se to be cleaned.
Call/text:
Robert 720.280.2959
Iwona 720.487.6379
15+ years experience
F A MI L Y
Smile sh Swim School Lessons Russ Marsh
in Castle Rock
Is Hiring COOKS!!!!
SPANISH ENRICHMENT
Registering Now...
Brand new
Virtual Zoom Connect Program
Spanish Enrichment group after-school lessons Spanish Enrichment one-on-one enrichment lessons Spanish Enrichment one-on-one tutoring lessons Spanish Enrichment family lessons
Spanish Enrichment homeschooler lessons
To Register: spanishenrichment.com • 303-805-1452 • norma@spanishenrich.com Pioneers of Spanish programs and serving Denver metro area since 2000.
Overdrive Raceway Go Karts Go Carts
November 2020 • Castle Rock "AreaNewsletters" 26
CLICK for coupons!