Page 54 - AreaNewsletters "Nov 2020" issue
P. 54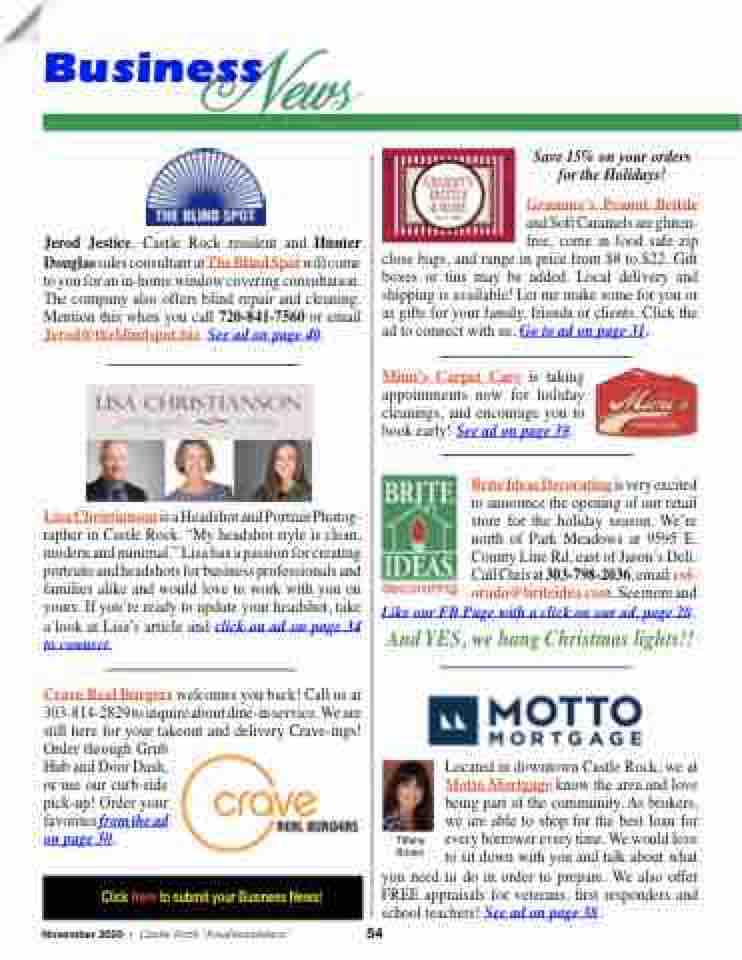 Business
News
Save 15% on your orders
for the Holidays!
Grammy's Peanut Brittle
and Soft Caramels are gluten-
Jerod Jestice, Castle Rock resident and Hunter Douglas sales consultant at The Blind Spot will come to you for an in-home window covering consultation. The company also offers blind repair and cleaning. Mention this when you call 720-841-7560 or email Jerod@theblindspot.biz. See ad on page 40.
Lisa Christianson is a Headshot and Portrait Photog- rapher in Castle Rock. "My headshot style is clean, modern and minimal." Lisa has a passion for creating portraits and headshots for business professionals and families alike and would love to work with you on yours. If you're ready to update your headshot, take a look at Lisa's article and click on ad on page 34 to connect.
free, come in food safe zip close bags, and range in price from $8 to $22. Gift boxes or tins may be added. Local delivery and shipping is available! Let me make some for you or as gifts for your family, friends or clients. Click the
Mimi's Carpet Care is taking appointments now for holiday cleanings, and encourage you to book early! See ad on page 39.
Brite Ideas Decorating is very excited to announce the opening of our retail store for the holiday season. We're north of Park Meadows at 9595 E. County Line Rd, east of Jason's Deli. CallChrisat303-798-2036,email col- orado@briteidea.com. See more and
ad to connect with us. Go to ad on page 31.
Like our FB Page with a click on our ad, page 20. And YES, we hang Christmas lights!!
Crave Real Burgers welcomes you back! Call us at 303-814-2829 to inquire about dine-in service. We are still here for your takeout and delivery Crave-ings! Order through Grub
Hub and Door Dash, or use our curb-side pick-up! Order your favorites from the ad on page 30.
Tiffany Brown
Located in downtown Castle Rock, we at Motto Mortgage know the area and love being part of the community. As brokers, we are able to shop for the best loan for every borrower every time. We would love to sit down with you and talk about what
Click Here to submit your Business News!
November 2020 • Castle Rock "AreaNewsletters" 54
you need to do in order to prepare. We also offer FREE appraisals for veterans,  rst responders and school teachers! See ad on page 38.