Page 30 - AreaNewsletters "Nov'18" issue
P. 30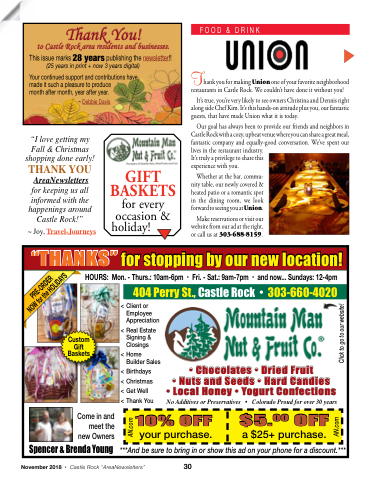 Thank You!
to Castle Rock area residents and businesses This issue marks 28 years years years publishing the newsletter!! (25 years years years in in in print + now 3 years years years digital)
Your continued support and contributions have made it such a a a a a a a a pleasure to produce
month month after after month month year year after after year year ~ Debbie Davis
F OOD & D D R I N K
"I love getting my Fall & Christmas shopping done early!
Thank you you you for making Union one one of your favorite neighborhood restaurants in in Castle Rock We couldn't have done it it it without you!
It's It's true you're very likely to see owners Christina and and Dennis right along side Chef Kim It's It's this hands-on attitude plus you you our fantastic guests that have made Union what it it is is today Our goal has always been to provide our friends and neighbors in Castle Rock with a a a a a a a a a a a a a a a a a a a cozy upbeat venue where you can share a a a a a a a a a a a a a a a a a a a great meal fantastic company and equally-good conversation We've spent our lives in in the restaurant industry It's truly a a a a privilege to share this experience with you Whether at the the bar commu- nity table our newly covered & heated patio or a a a a a romantic spot in in in in the dining room we look forward to seeing you at Union Make reservations or visit our our website from our our ad at at at the right or call us at at 303-688-8159 THANK YOU
GIFT BASKETS
AreaNewsletters
for for keeping us all informed with the happenings around Castle Rock!"
for every occasion & ~ Joy Travel-Journeys
holiday!
"THANKS" for stopping by our new location!
Mountain Mountain Man Man Chocolates Chocolates Retail Retail Mountain Mountain Man Man Chocolates Chocolates Retail Retail 404 Perry St Castle Rock • • • 303-660-4020
Custom
Gift Baskets
10% OFF
$5 00 OFF
your purchase a a $25+ purchase HOURS: Mon - - - - - - - Thurs :
:
:
:
10am-6pm • • • Fri - - - - - - - Sat :
:
:
:
9am-7pm • • • and now Sundays: 12-4pm
< Client or Employee Appreciation
< Real Estate Signing & Closings
< Home Builder Sales
< Birthdays
< Christmas < Get Well
< Thank You • • • Chocolates • • • Dried Fruit
• • • • • Nuts and and Seeds • • • • • Hard Candies
• • • • • Local Honey • • • • • Yogurt Confections
No Additives or or or Preservatives • • • Colorado Proud for over 30 years Come in and meet the new Owners
Spencer & Brenda Young ***And be sure to bring in in or or show this ad on on your phone for a a a discount *** *** November 2018 • Castle Rock "AreaNewsletters" 30 PRE-ORDER NOW for the HOLIDAYS
AN com AN com Click to to go to to our website!