Page 22 - AreaNewsletters "Dec'19" issue
P. 22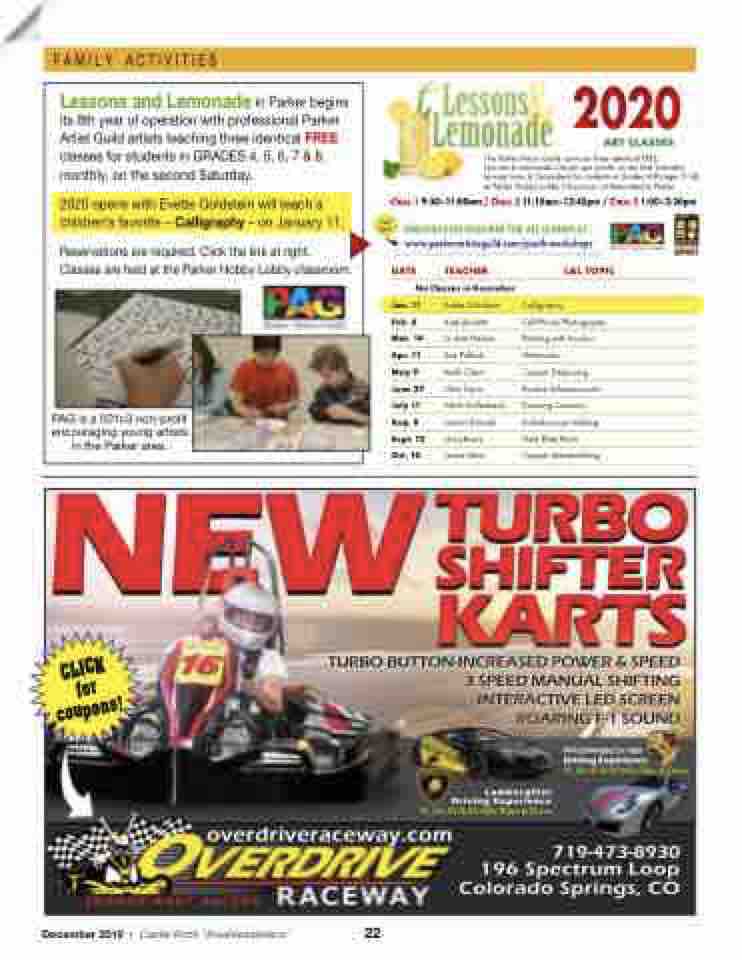 F A MI L Y
A C T I V I T I E S
2020
The Parker Artists Guild sponsors three identical FREE
Lessons & Lemonade Classes per month on the 2nd Saturday (except June & December) for students in Grades 4-8 (ages 9-14) at Parker Hobby Lobby Classroom, at Mainstreet & Parker.
Class 1 9:30–11:00am / Class 2 11:15am–12:45pm / Class 3 1:00–2:30pm Click
Lessons and Lemonade in Parker begins its 8th year of operation with professional Parker Artist Guild artists teaching three identical FREE classes for students in GRADES 4, 5, 6, 7 & 8, monthly, on the second Saturday.
Reservations are required. Click the link at right. Classes are held at the Parker Hobby Lobby classroom.
PAG is a 501c3 non-pro t encouraging young artists in the Parker area.
2020 opens with Evette Goldstein will teach a children's favorite – Calligraphy – on January 11.
here!!
DATE TEACHER
No Classes in December
L&L TOPIC
Calligraphy
Cell Phone Photography Painting with Acrylics Watercolor
Copper Embossing Positive Af rmation Art Drawing Cartoons Kaleidoscope Making Gelli Plate Prints Copper Metalsmithing
Jan. 11
Feb. 8 Mar. 14 Apr. 11 May 9 June 27 July 11 Aug. 8 Sept. 12 Oct. 10
Evette Goldstein
Kate Brunetti
Jo Ann Nelson Sue Pollock
Keith Chew
Char Davis
Mark Hollenbeck Lauren Demuth Gina Barry Jackie Kear
Overdrive Raceway Go Karts Go Carts
December 2019 • Castle Rock "AreaNewsletters" 22
REGISTRATION REQUIRED FOR ALL CLASSES AT...
www.parkerartistsguild.com/youth-workshops
CLICK for coupons!