Page 26 - AreaNewsletters "Dec'19" issue
P. 26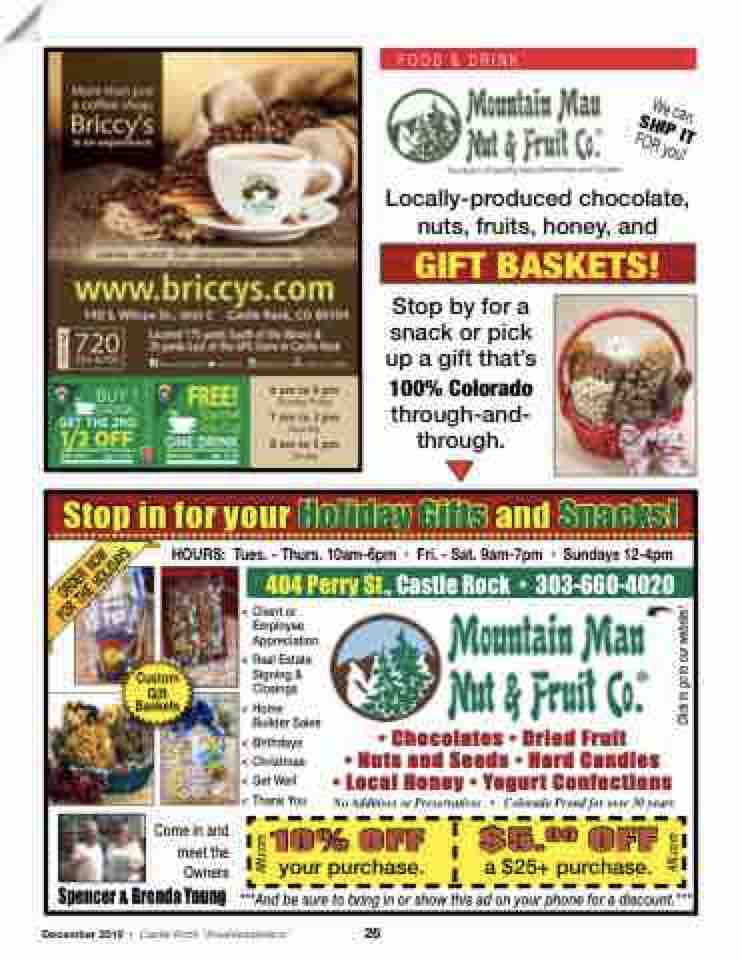 Stop in and say "hi"!
Exp. 1/1/20 Exp. 1/1/20
6 am to 8 pm
Monday-Friday
7 am to 3 pm
Saturday
8 am to 3 pm
Sunday
F OOD & D R I N K
Locally-produced chocolate, nuts, fruits, honey, and
GIFT BASKETS!
Stop by for a snack or pick up a gift that's 100% Colorado through-and- through.
HOURS: Tues. - Thurs. 10am-6pm • Fri. - Sat. 9am-7pm • Sundays 12-4pm
< Client or Employee Appreciation
< Real Estate Signing & Closings
< Home Builder Sales
< Birthdays
< Christmas
< Get Well
< Thank You
Come in and meet the Owners
Stop in for your Holiday Gifts and Snacks!
Mountain Man Choco-
lat
Reta
es G
if
t Ba
sket
s
il
404 Perry St., Castle Rock • 303-660-4020
Custom
Gift Baskets
10% OFF
$5.00 OFF
your purchase.
a $25+ purchase.
• Chocolates • Dried Fruit
• Nuts and Seeds • Hard Candies
• Local Honey • Yogurt Confections
No Additives or Preservatives • Colorado Proud for over 30 years
Spencer & Brenda Young ***And be sure to bring in or show this ad on your phone for a discount.*** December 2019 • Castle Rock "AreaNewsletters" 26
We can
SHIP IT
FOR you!
ORDER NOW FOR THE HOLIDAYS
AN.com
AN.com
Click to go to our website!