Page 36 - AreaNewsletters "Dec'19" issue
P. 36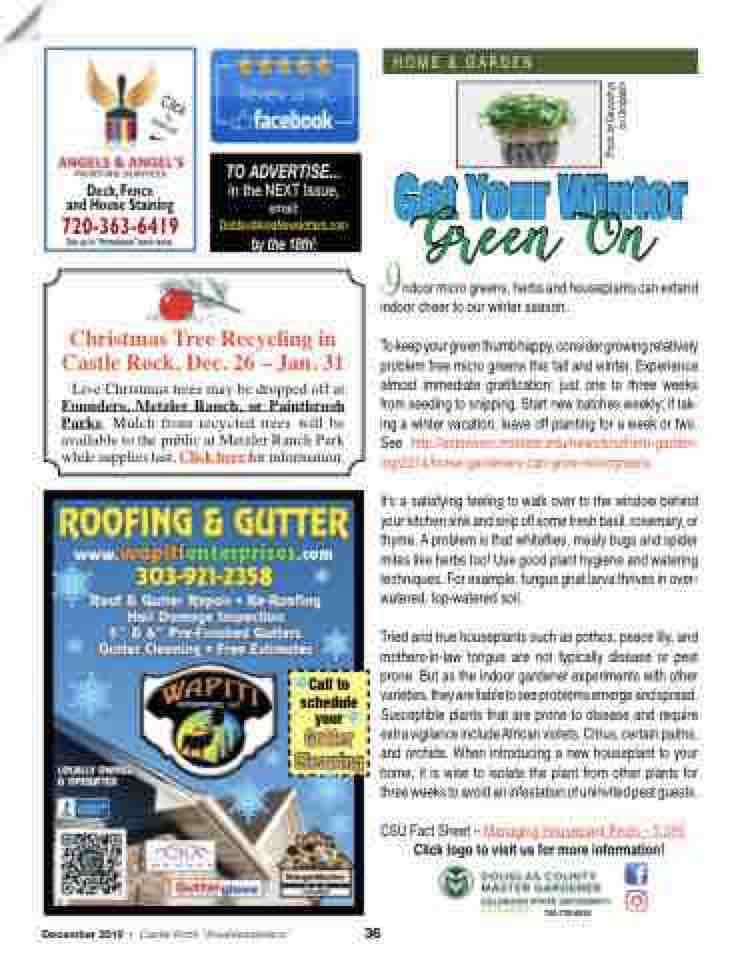 Angels
Deck, Fence and House Staining
720-363-6419
See us in "Homebase" each issue.
H O ME & G A R D E N
Christmas Tree Recycling in
ndoor micro greens, herbs and houseplants can extend indoor cheer to our winter season.
To keep your green thumb happy, consider growing relatively problem free micro greens this fall and winter. Experience almost immediate grati cation; just one to three weeks from seeding to snipping. Start new batches weekly; if tak- ing a winter vacation, leave off planting for a week or two. See http://extension.msstate.edu/news/southern-garden- ing/2014/home-gardeners-can-grow-microgreens
It's a satisfying feeling to walk over to the window behind your kitchen sink and snip off some fresh basil, rosemary, or thyme. A problem is that white ies, mealy bugs and spider mites like herbs too! Use good plant hygiene and watering techniques. For example, fungus gnat larva thrives in over- watered, top-watered soil.
Tried and true houseplants such as pothos, peace lily, and mothers-in-law tongue are not typically disease or pest prone. But as the indoor gardener experiments with other varieties, they are liable to see problems emerge and spread. Susceptible plants that are prone to disease and require extra vigilance include African violets, Citrus, certain palms, and orchids. When introducing a new houseplant to your home, it is wise to isolate the plant from other plants for three weeks to avoid an infestation of uninvited pest guests.
CSU Fact Sheet – Managing Houseplant Pests – 5.595 Click logo to visit us for more information!
Castle Rock, Dec. 26 – Jan. 31
Live Christmas trees may be dropped off at
Founders, Metzler Ranch, or Paintbrush Parks. Mulch from recycled trees will be available to the public at Metzler Ranch Park while supplies last. Click here for information.
Get Your Winter
I
Green On
www.wapitienterprises.com
Call to schedule your
Gutter Cleaning
December 2019 • Castle Rock "AreaNewsletters"
36
TO ADVERTISE...
in the NEXT Issue, email: Debbie@AreaNewsletters.com by the 18th!
720-733-6935
Photo by Deviyahya on Unsplash
Click to email us!