Page 45 - AreaNewsletters "June 2020" issue
P. 45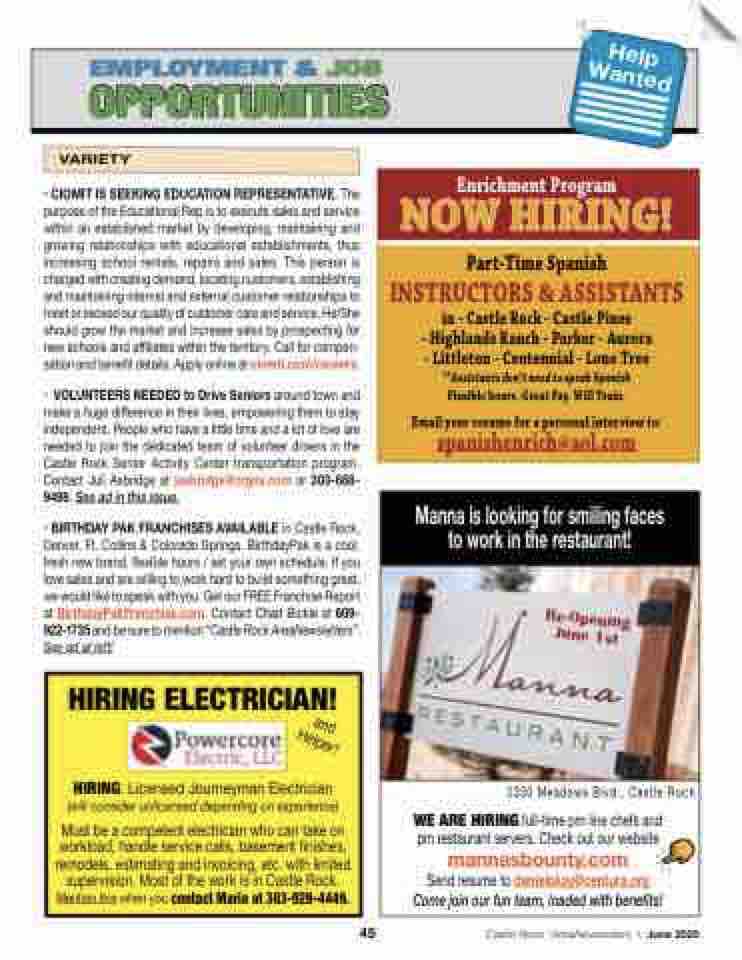 EMPLOYMENT & JOB OPPORTUNITIES
VARIETY
• CIOMIT IS SEEKING EDUCATION REPRESENTATIVE. The purpose of the Educational Rep is to execute sales and service within an established market by developing, maintaining and growing relationships with educational establishments, thus increasing school rentals, repairs and sales. This person is charged with creating demand, locating customers, establishing and maintaining internal and external customer relationships to meet or exceed our quality of customer care and service. He/She should grow the market and increase sales by prospecting for new schools and a liates within the territory. Call for compen- sation and bene t details. Apply online at ciomit.com/careers.
• VOLUNTEERS NEEDED to Drive Seniors around town and make a huge di erence in their lives, empowering them to stay independent. People who have a little time and a lot of love are needed to join the dedicated team of volunteer drivers in the Castle Rock Senior Activity Center transportation program. Contact Juli Asbridge at jasbridge@crgov.com or 303-688- 9498. See ad in this issue.
• BIRTHDAY PAK FRANCHISES AVAILABLE in Castle Rock, Denver, Ft. Collins & Colorado Springs. BirthdayPak is a cool, fresh new brand,  exible hours / set your own schedule. If you love sales and are willing to work hard to build something great, we would like to speak with you. Get our FREE Franchise Report at BirthdayPakFranchise.com. Contact Chad Bickle at 609- 922-1735 and be sure to mention "Castle Rock AreaNewsletters". See ad at left!
Enrichment Program
NOW HIRING!
Part-Time Spanish
INSTRUCTORS & ASSISTANTS
in - Castle Rock - Castle Pines
- Highlands Ranch - Parker - Aurora - Littleton - Centennial - Lone Tree **Assistants don't need to speak Spanish Flexible hours. Great Pay. Will Train.
Email your resume for a personal interview to:
spanishenrich@aol.com
MaMnananaisislolokiing forsmililninggfafcaecses
to work in the restaurant!
to work in the restaurant!
2350 Meadows Blvd., Castle Rock
WE ARE HIRING full-time pm line chefs and pm restaurant servers. Check out our website mannasbounty.com
Send resume to danielskay@centura.org Come join our fun team, loaded with bene ts!
HIRING ELECTRICIAN!
HIRING: Licensed Journeyman Electrician (will consider unlicensed depending on experience)
Must be a competent electrician who can take on workload, handle service calls, basement  nishes, remodels, estimating and invoicing, etc. with limited supervision. Most of the work is in Castle Rock. Mention this when you contact Maria at 303-929-4449.
45 Castle Rock "AreaNewsletters • June 2020
Help Wanted
Re-Opening June 1st
and Helper!