Page 17 - AreaNewsletters "Apr 2021" issue
P. 17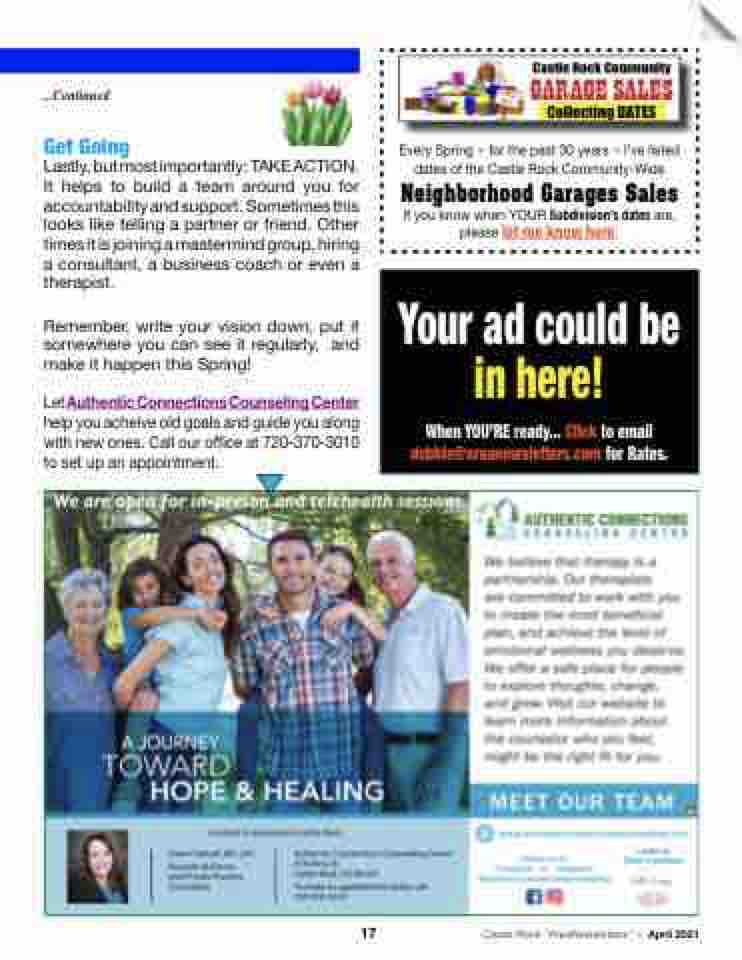 HEALTH • WELLNESS • LIFESTYLE
...Continued
Get Going
Lastly, but most importantly: TAKE ACTION. It helps to build a team around you for accountability and support. Sometimes this looks like telling a partner or friend. Other times it is joining a mastermind group, hiring a consultant, a business coach or even a therapist.
Castle Rock Community
Remember, write your vision down, put it somewhere you can see it regularly, and make it happen this Spring!
Your ad could be
Let Authentic Connections Counseling Center help you acheive old goals and guide you along with new ones. Call our o ce at 720-370-3010 to set up an appointment.
Authentic Connections Counseling Center
in here!
17
Castle Rock "AreaNewsletters" • April 2021
GARAGE SALES
Collecting DATES
Every Spring ~ for the past 30 years ~ I've listed dates of the Castle Rock Community-Wide
Neighborhood Garages Sales
If you know when YOUR Subdivision's dates are, please let me know here.
When YOU'RE ready... Click to email debbie@areanewsletters.com for Rates.