Page 20 - AreaNewsletters "Apr 2021" issue
P. 20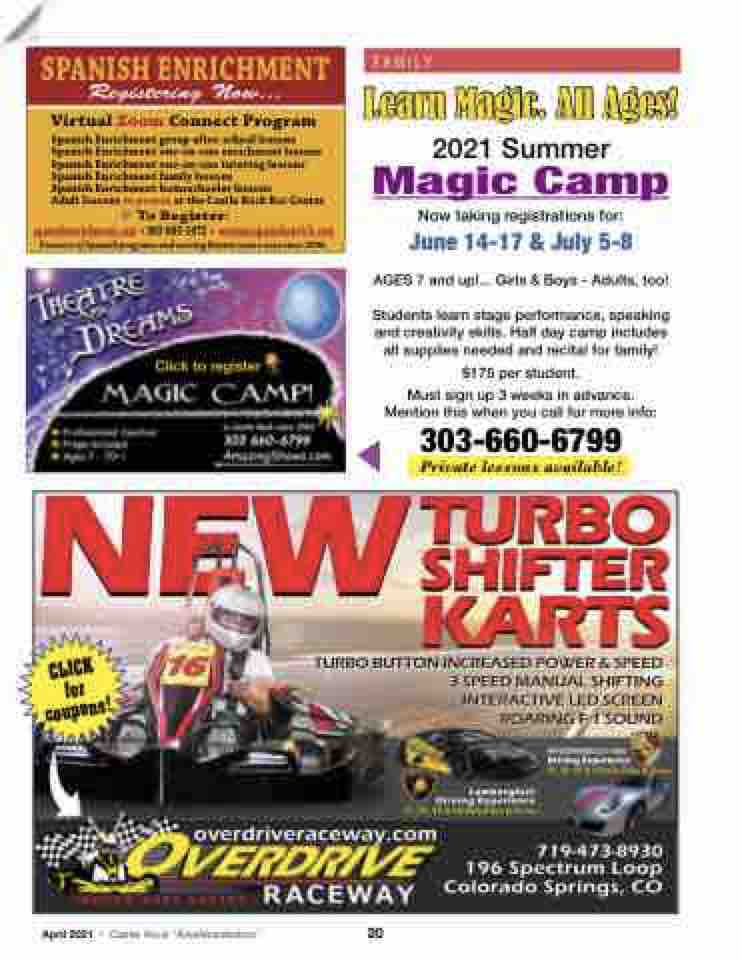 SPANISH ENRICHMENT
Registering Now...
Virtual Zoom Connect Program
Spanish Enrichment group after-school lessons Spanish Enrichment one-on-one enrichment lessons Spanish Enrichment one-on-one tutoring lessons Spanish Enrichment family lessons
Spanish Enrichment homeschooler lessons
Adult lessons in-person at the Castle Rock Rec Center
To Register: spanishenrichment.com • 303-805-1472 • norma@spanishenrich.com Pioneers of Spanish programs and serving Denver metro area since 2000.
F A MI L Y
Learn Magic. All Ages!
2021 Summer
Magic Camp
Theatre of Dream Magic Camp AmazingShows Learn Magic
Click to register
Now taking registrations for:
June 14-17 & July 5-8
AGES 7 and up!... Girls & Boys - Adults, too!
Students learn stage performance, speaking and creativity skills. Half day camp includes all supplies needed and recital for family!
$175 per student.
Must sign up 3 weeks in advance. Mention this when you call for more info:
303-660-6799
Private lessons available!
Overdrive Raceway Go Karts Go Carts
April 2021 • Castle Rock "AreaNewsletters" 20
CLICK for coupons!