Page 40 - AreaNewsletters "Apr 2021" issue
P. 40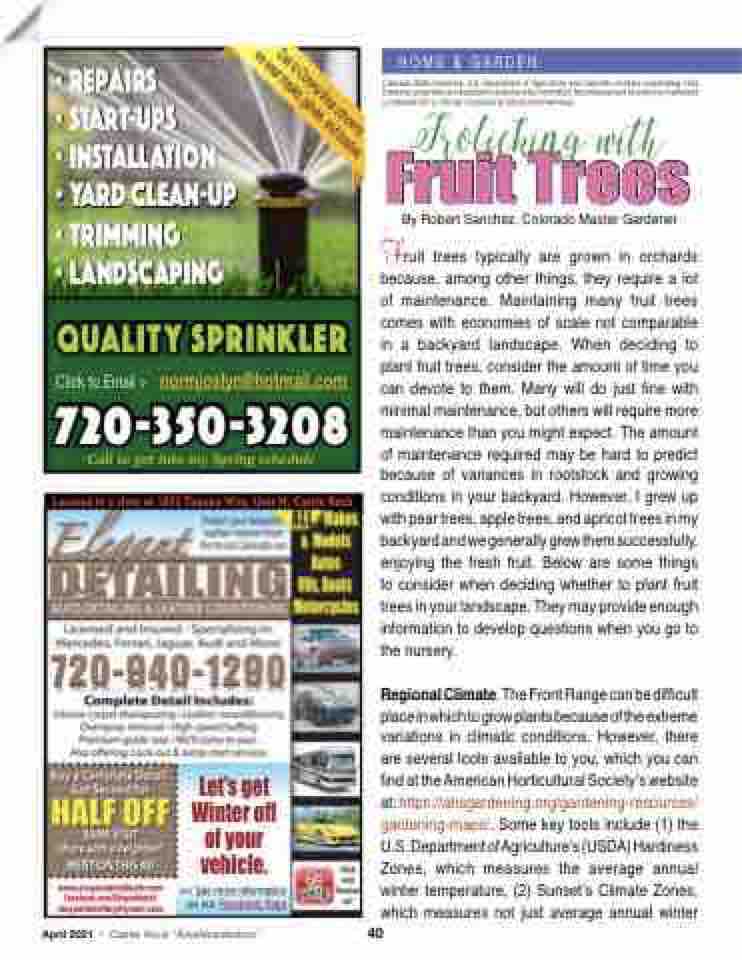 • repairs
• START-UPS
• INSTALLATION •YARDCLEAN-UP • TRIMMING
• LANDSCAPING
QUALITY SPRINKLER
Click to Email > normjoslyn@hotmail.com
720-350-3208
Call to get into my Spring schedule
Colorado State University, U.S. Department of Agriculture and Colorado counties cooperating. CSU Extension programs are available to all without discrimination. No endorsement of products mentioned is intended nor is criticism implied of products not mentioned.
Frolicking with
Fruit Trees
By Robert Sanchez, Colorado Master Gardener
Fruit trees typically are grown in orchards because, among other things, they require a lot of maintenance. Maintaining many fruit trees comes with economies of scale not comparable in a backyard landscape. When deciding to plant fruit trees, consider the amount of time you can devote to them. Many will do just  ne with minimal maintenance, but others will require more maintenance than you might expect. The amount of maintenance required may be hard to predict because of variances in rootstock and growing conditions in your backyard. However, I grew up with pear trees, apple trees, and apricot trees in my backyard and we generally grew them successfully, enjoying the fresh fruit. Below are some things to consider when deciding whether to plant fruit trees in your landscape. They may provide enough information to develop questions when you go to the nursery.
Regional Climate. The Front Range can be dif cult place in which to grow plants because of the extreme variations in climatic conditions. However, there are several tools available to you, which you can  nd at the American Horticultural Society's website at: https://ahsgardening.org/gardening-resources/ gardening-maps/. Some key tools include (1) the U.S. Department of Agriculture's (USDA) Hardiness Zones, which measures the average annual winter temperature, (2) Sunset's Climate Zones, which measures not just average annual winter
Located in a shop at 1052 Topeka Way, Unit H, Castle Rock
Elegant Detailing Vehicle
Auto maintenance Car Lock Out Jump Start
www.elegantdetailingllc.com Facebook.com/Elegantdetail elegantdetailing@gmail.com
vehicle.
<< See more information on our Facebook Page
Let's get
"Enjoy a newly
cleaned &
Winter off
detailed vehicle
o
f
r
f
y
o
r
New Year!"
o
th
u
e
April 2021 • Castle Rock "AreaNewsletters" 40
H O ME & G A R D E N
Due to Corona Virus concerns we wear masks, gloves, and booties.