Page 10 - AreaNewsletters "Feb 2021" issue
P. 10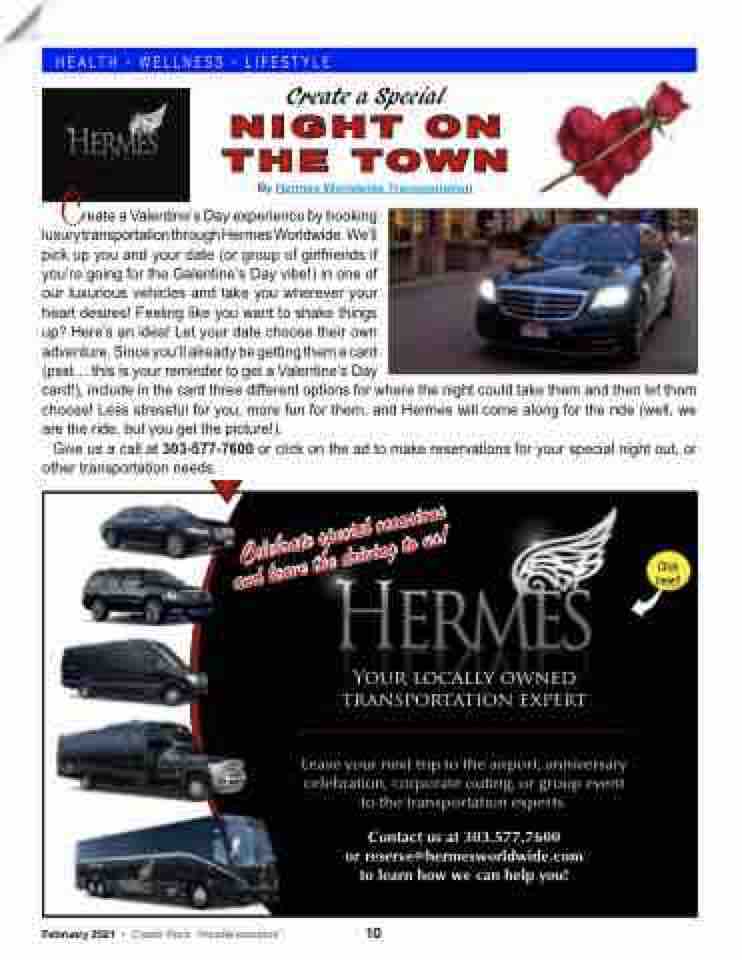 HEALTH • WELLNESS • LIFESTYLE
By Hermes Worldwide Transportation
Give us a call at 303-577-7600 or click on the ad to make reservations for your special night out, or other transportation needs.
Create a Special
NIGHT ON THE TOWN
Create a Valentine's Day experience by booking
luxury transportation through Hermes Worldwide. We'll
pick up you and your date (or group of girlfriends if
you're going for the Galentine's Day vibe!) in one of
our luxurious vehicles and take you wherever your
heart desires! Feeling like you want to shake things
up? Here's an idea! Let your date choose their own
adventure. Since you'll already be getting them a card
(psst... this is your reminder to get a Valentine's Day
card!), include in the card three different options for where the night could take them and then let them choose! Less stressful for you, more fun for them, and Hermes will come along for the ride (well, we are the ride, but you get the picture!).
Click here!!
Your locally owned transportation expert
Leave your next trip to the airport, anniversary celebration, corporate outing, or group event to the transportation experts.
Contact us at 303.577.7600
or reserve@hermesworldwide.com to learn how we can help you!
February 2021 • Castle Rock "AreaNewsletters" 10
Celebrate special occasions and leave the driving to us!