Page 42 - AreaNewsletters "Feb 2021" issue
P. 42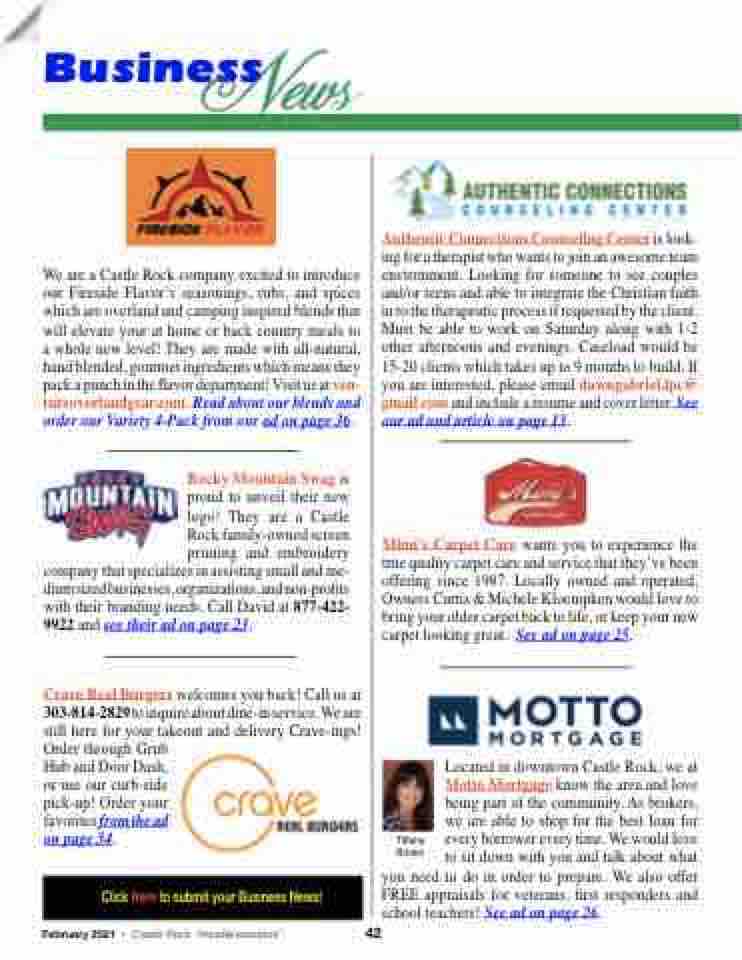 Business
News
We are a Castle Rock company excited to introduce our Fireside Flavor's seasonings, rubs, and spices which are overland and camping inspired blends that will elevate your at home or back country meals to a whole new level! They are made with all-natural, hand blended, gourmet ingredients which means they pack a punch in the  avor department! Visit us at ven- tureoverlandgear.com. Read about our blends and order our Variety 4-Pack from our ad on page 36.
Authentic Connections Counseling Center is look- ing for a therapist who wants to join an awesome team environment. Looking for someone to see couples and/or teens and able to integrate the Christian faith in to the therapeutic process if requested by the client. Must be able to work on Saturday along with 1-2 other afternoons and evenings. Caseload would be 15-20 clients which takes up to 9 months to build. If you are interested, please email dawngabriel.lpc@ gmail.com and include a resume and cover letter. See our ad and article on page 13.
Mimi's Carpet Care wants you to experience the true quality carpet care and service that they've been offering since 1987. Locally owned and operated, Owners Curtis & Michele Kloempken would love to bring your older carpet back to life, or keep your new carpet looking great. See ad on page 25.
Rocky Mountain Swag is proud to unveil their new logo! They are a Castle Rock family-owned screen printing and embroidery
company that specializes in assisting small and me- dium sized businesses, organizations, and non-pro ts with their branding needs. Call David at 877-422- 9922 and see their ad on page 23.
Crave Real Burgers welcomes you back! Call us at 303-814-2829 to inquire about dine-in service. We are still here for your takeout and delivery Crave-ings! Order through Grub
Hub and Door Dash, or use our curb-side pick-up! Order your favorites from the ad on page 34.
Tiffany Brown
Located in downtown Castle Rock, we at Motto Mortgage know the area and love being part of the community. As brokers, we are able to shop for the best loan for every borrower every time. We would love to sit down with you and talk about what
Click Here to submit your Business News! February 2021 • Castle Rock "AreaNewsletters"
42
you need to do in order to prepare. We also offer FREE appraisals for veterans,  rst responders and school teachers! See ad on page 26.