Page 39 - AreaNewsletters "Oct 2021" issue
P. 39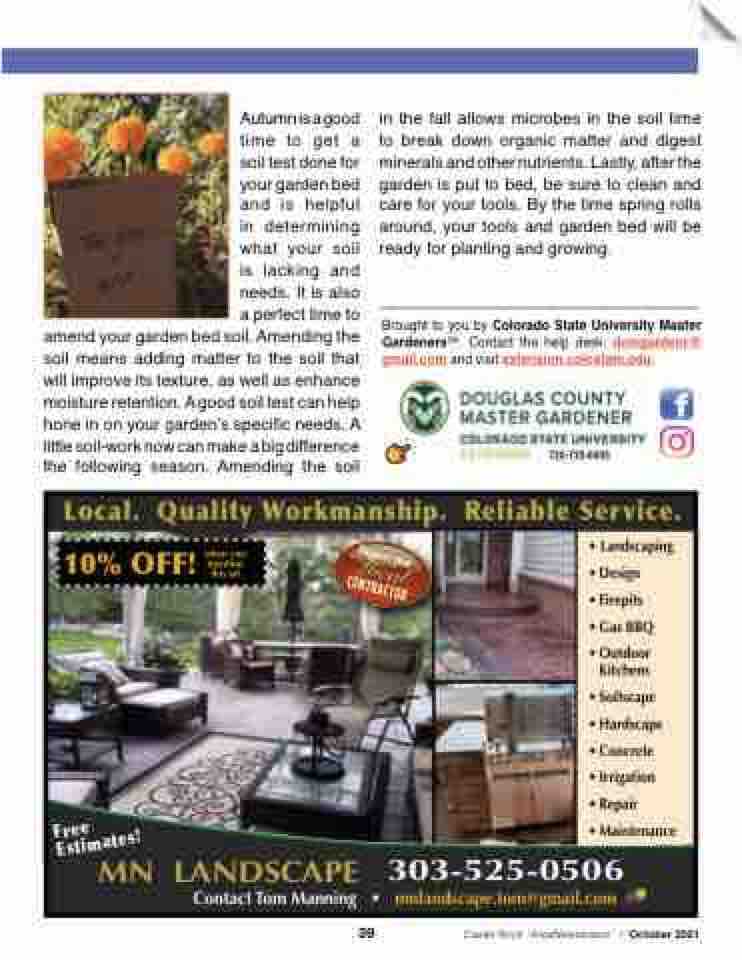 Local. Quality Workmanship. Reliable Service.
10% OFF! when you this ad
mention
303-525-0506 Contact Tom Manning • mnlandscape.tom@gmail.com
MN LANDSCAPE
• Landscaping
• Design
• Firepits
• Gas BBQ
• Outdoor Kitchens
• Softscape
• Hardscape
• Concrete
• Irrigation
• Repair
• Maintenance
Autumn is a good time to get a soil test done for your garden bed and is helpful in determining what your soil is lacking and needs. It is also a perfect time to
amend your garden bed soil. Amending the soil means adding matter to the soil that will improve its texture, as well as enhance moisture retention. A good soil test can help hone in on your garden's speci c needs. A little soil-work now can make a big difference the following season. Amending the soil
in the fall allows microbes in the soil time to break down organic matter and digest minerals and other nutrients. Lastly, after the garden is put to bed, be sure to clean and care for your tools. By the time spring rolls around, your tools and garden bed will be ready for planting and growing.
Brought to you by Colorado State University Master SM
Gardeners . Contact the help desk: dcmgardenr@ gmail.com and visit extension.colostate.edu.
720-733-6935
39
Castle Rock "AreaNewsletters" • October 2021
Support your
Local
CONTRACTOR
Free Estimates!