Page 40 - AreaNewsletters "July 2021" issue
P. 40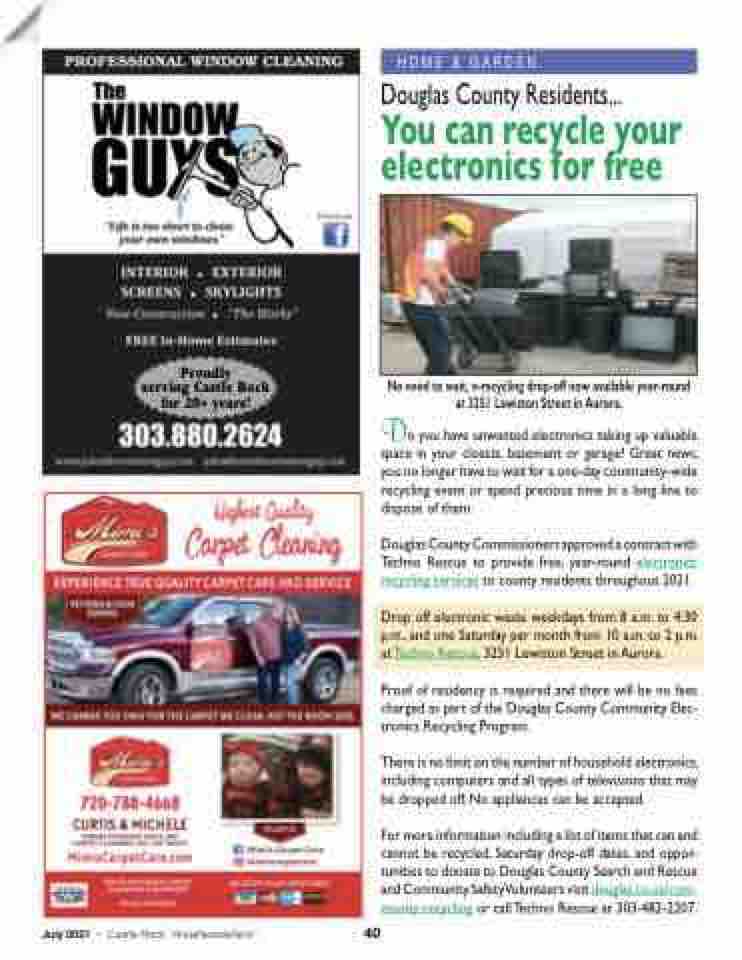 The Window Guys Window Cleaning Washing
HOME & GARDEN
Proudly serving Castle Rock for 20+ years!
No need to wait, e-recycling drop-off now available year-round at 3251 Lewiston Street in Aurora.
Do you have unwanted electronics taking up valuable space in your closets, basement or garage? Great news, you no longer have to wait for a one-day community-wide recycling event or spend precious time in a long line to dispose of them.
Douglas County Commissioners approved a contract with Techno Rescue to provide free, year-round electronics recycling services to county residents throughout 2021.
Proof of residency is required and there will be no fees charged as part of the Douglas County Community Elec- tronics Recycling Program.
There is no limit on the number of household electronics, including computers and all types of televisions that may be dropped off. No appliances can be accepted.
For more information including a list of items that can and cannot be recycled, Saturday drop-off dates, and oppor- tunities to donate to Douglas County Search and Rescue and Community SafetyVolunteers visit douglas.co.us/com- munity-recycling or call Techno Rescue at 303-482-2207.
Douglas County Residents...
You can recycle your electronics for free
Mimi's Carpet Care Upholstery Cleaning
July 2021 • Castle Rock "AreaNewsletters"
40
Drop off electronic waste weekdays from 8 a.m. to 4:30 p.m., and one Saturday per month from 10 a.m. to 2 p.m. at Techno Rescue, 3251 Lewiston Street in Aurora.