Page 44 - AreaNewsletters "July 2021" issue
P. 44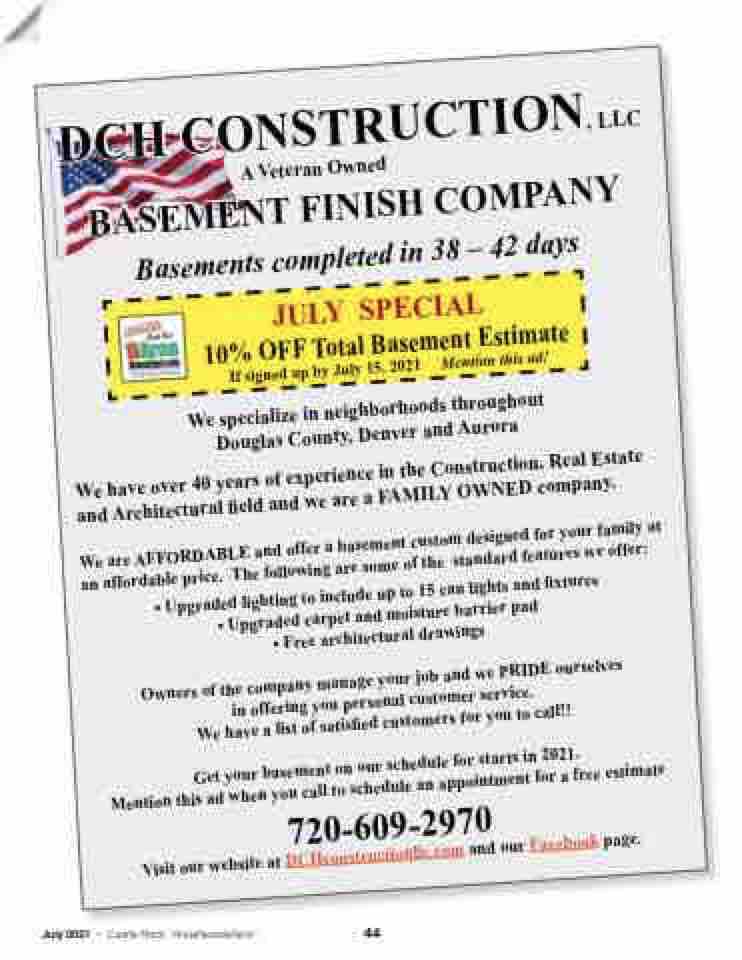 July 2021 • Castle Rock "AreaNewsletters" 44
DCH CONSTRUCTION, LLC A Veteran Owned
BASEMENT FINISH COMPANY Basements completed in 38 – 42 days
JULY SPECIAL
10% OFF Total Basement Estimate If signed up by July 15, 2021 Mention this ad!
We specialize in neighborhoods throughout Douglas County, Denver and Aurora
We have over 40 years of experience in the Construction, Real Estate and Architectural  eld and we are a FAMILY OWNED company.
We are AFFORDABLE and offer a basement custom designed for your family at an affordable price. The following are some of the standard features we offer:
• Upgraded lighting to include up to 15 can lights and  xtures • Upgraded carpet and moisture barrier pad
• Free architectural drawings
Owners of the company manage your job and we PRIDE ourselves in offering you personal customer service.
We have a list of satis ed customers for you to call!!
Get your basement on our schedule for starts in 2021.
Mention this ad when you call to schedule an appointment for a free estimate
720-609-2970
Visit our website at DCHconstructionllc.com and our Facebook page.