Page 50 - AreaNewsletters "July 2021" issue
P. 50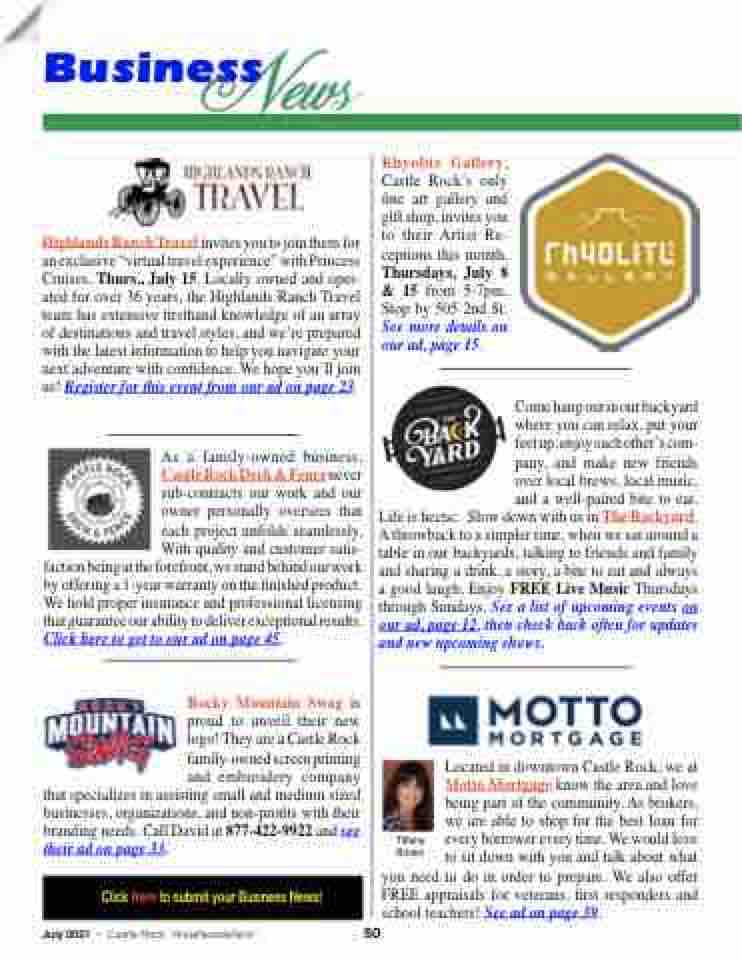 Business
News
Highlands Ranch Travel invites you to join them for an exclusive "virtual travel experience" with Princess Cruises, Thurs., July 15. Locally owned and oper- ated for over 36 years, the Highlands Ranch Travel team has extensive  rsthand knowledge of an array of destinations and travel styles, and we're prepared with the latest information to help you navigate your next adventure with con dence. We hope you'll join us! Register for this event from our ad on page 23.
As a family-owned business, Castle Rock Deck & Fence never sub-contracts our work and our owner personally oversees that each project unfolds seamlessly. With quality and customer satis-
Rhyolite Gallery, Castle Rock's only  ne art gallery and gift shop, invites you to their Artist Re- ceptions this month, Thursdays, July 8 & 15 from 5-7pm. Stop by 505 2nd St. See more details on our ad, page 15.
Come hang out in our backyard where you can relax, put your feet up, enjoy each other's com- pany, and make new friends over local brews, local music, and a well-paired bite to eat.
faction being at the forefront, we stand behind our work by offering a 1-year warranty on the  nished product. We hold proper insurance and professional licensing that guarantee our ability to deliver exceptional results. Click here to get to our ad on page 45.
Life is hectic. Slow down with us in The Backyard. A throwback to a simpler time, when we sat around a table in our backyards, talking to friends and family and sharing a drink, a story, a bite to eat and always a good laugh. Enjoy FREE Live Music Thursdays through Sundays. See a list of upcoming events on our ad, page 12, then check back often for updates and new upcoming shows.
Rocky Mountain Swag is proud to unveil their new logo! They are a Castle Rock family-owned screen printing and embroidery company
Located in downtown Castle Rock, we at Motto Mortgage know the area and love being part of the community. As brokers, we are able to shop for the best loan for every borrower every time. We would love to sit down with you and talk about what
that specializes in assisting small and medium sized businesses, organizations, and non-pro ts with their branding needs. Call David at 877-422-9922 and see their ad on page 33.
Tiffany Brown
Click Here to submit your Business News!
July 2021 • Castle Rock "AreaNewsletters" 50
you need to do in order to prepare. We also offer FREE appraisals for veterans,  rst responders and school teachers! See ad on page 39.