Page 33 - AreaNewsletters "July 2020" issue
P. 33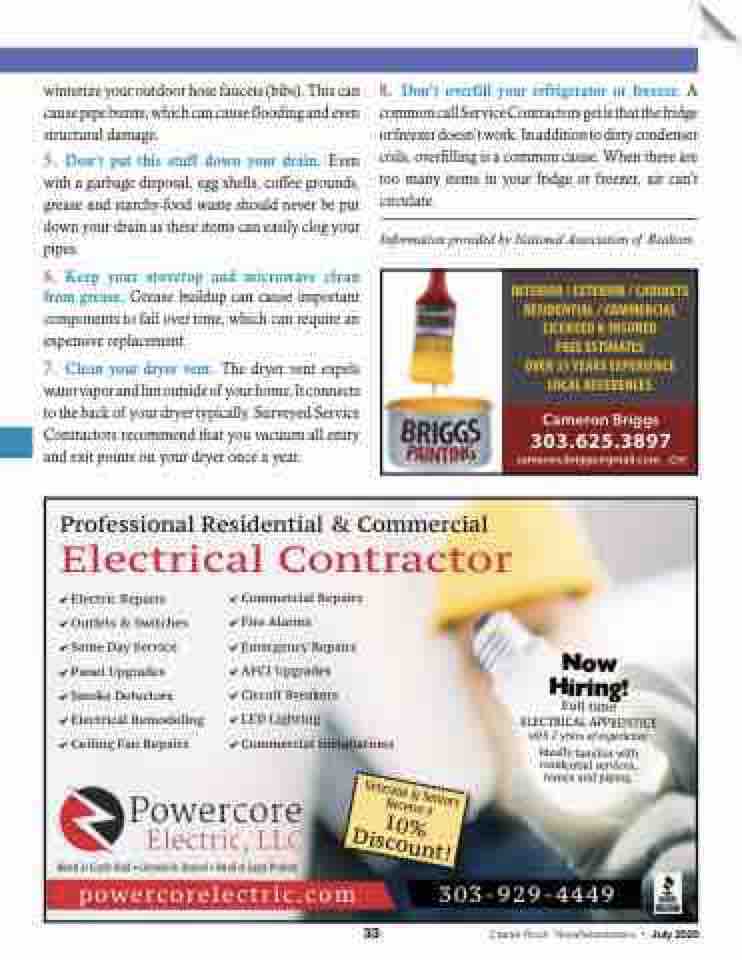 INTERIOR / EXTERIOR / CABINETS
Briggs Painting
RESIDENTIAL / COMMERCIAL LICENSED & INSURED FREE ESTIMATES
OVER 35 YEARS EXPERIENCE LOCAL REFERENCES
Cameron Briggs
303.625.3897
cameron.briggs@gmail.com
Professional Residential & Commercial
Electrical Contractor
4 Electric Repairs
4 Outlets & Switches
4 Same Day Service
4 Panel Upgrades
4 Smoke Detectors
4 Electrical Remodeling 4 Ceiling Fan Repairs
4 Commercial Repairs 4 Fire Alarms
4 Emergency Repairs 4 AFCI Upgrades
4 Circuit Breakers
4 LED Lighting
4 Commercial Installations
Based in Castle Rock • Licensed & Insured • Small or Large Projects
powercorelectric.com
303-929-4449
winterize your outdoor hose faucets (bibs). This can cause pipe bursts, which can cause flooding and even structural damage.
5. Don't put this stuff down your drain. Even with a garbage disposal, egg shells, coffee grounds, grease and starchy-food waste should never be put down your drain as these items can easily clog your pipes.
6. Keep your stovetop and microwave clean from grease. Grease buildup can cause important components to fail over time, which can require an expensive replacement.
7. Clean your dryer vent. The dryer vent expels water vapor and lint outside of your home. It connects to the back of your dryer typically. Surveyed Service Contractors recommend that you vacuum all entry and exit points on your dryer once a year.
8. Don't overfill your refrigerator or freezer. A common call Service Contractors get is that the fridge or freezer doesn't work. In addition to dirty condenser coils, overfilling is a common cause. When there are too many items in your fridge or freezer, air can't circulate.
Information provided by National Association of Realtors.
33 Castle Rock "AreaNewsletters • July 2020
Now
Hiring!
Full time ELECTRICAL APPRENTICE
with 2 years of experience.
Ideally familiar with residential services, romex and piping.
Veterans & Seniors Receive a
10% Discount!