Page 36 - AreaNewsletters "July 2020" issue
P. 36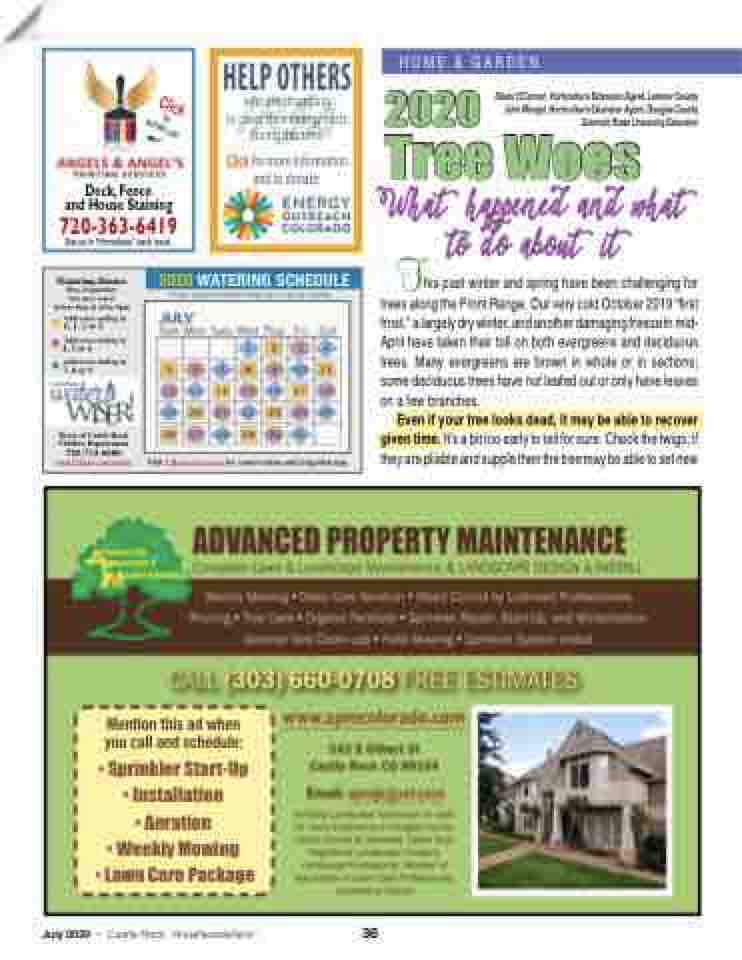 Angels
Deck, Fence and House Staining
720-363-6419
See us in "Homebase" each issue.
HELP OTHERS
who are struggling
to cover their energy costs during this time.
Click for more information and to donate:
2020
Alison O'Connor, Horticulture Extension Agent, Larimer County John Murgel, Horticulture Extension Agent, Douglas County Colorado State University Extension
Tree Woes
What happened and what
T to do about it
his past winter and spring have been challenging for trees along the Front Range. Our very cold October 2019 " rst frost," a largely dry winter, and another damaging freeze in mid- April have taken their toll on both evergreens and deciduous trees. Many evergreens are brown in whole or in sections; some deciduous trees have not leafed out or only have leaves on a few branches.
It's a bit too early to tell for sure. Check the twigs; if they are pliable and supple then the tree may be able to set new
Watering Hours: May–September You may water before 8am & after 8pm
n Addresses ending in 0, 1, 2 or 3
l Addresses ending in 4, 5 or 6
u Addresses ending in 7, 8 or 9
Town of Castle Rock Utilities Department 720-733-6000 www.CRgov.com/water
Certain streets in Founders Village have a special schedule.
Visit CRconserve.com for conservation and irrigation tips.
2020 WATERING SCHEDULE
APM Advanced Property Maintenance Lawn Landscape Design Mowing Aeration Tree Care Fertilizing Sprinklers Yard Clean-Ups
Mention this ad when you call and schedule:
• Sprinkler Start-Up • Installation
• Aeration
• Weekly Mowing
• Lawn Care Package
July 2020 • Castle Rock "AreaNewsletters" 36
Even if your tree looks dead, it may be able to recover
given time.
H O ME & G A R D E N
Click
to email us!