Page 18 - Food & Drink Magazine Nov-Dec 2018
P. 18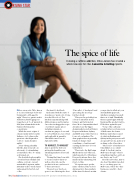 ✷ RISING STAR
IN her own words, Chloe Janson is "a career-driven professional by day and food blogger by night". There's no question she's still driven, but blogging is no longer her sole "food" pursuit: in 2016 Janson launched a niche business brewing chai concentrates.
While the exact origins of chai are unknown beyond its Indian roots, for Janson the quest into chai began after "a few too many sleepless nights".
A fan of living a healthy lifestyle, Janson was also an aficionado of a stimulating, aroma-filled coffee. Too many, as it turned out.
She decided sleepless nights – from her busy schedule and caffeine overload – weren't sustainable long term, and in 2015 Janson discovered chai as replacement for her beloved coffee.
She hasn't looked back.
Enchanted with the taste of chai, Janson "spent a lot of time in a chai laboratory" (her kitchen) experimenting with different spices and formulas. Once she was happy the recipe of certified organic spices including cinnamon, cardamom, ginger, cloves and loose-leaf black tea, was robust and replicable at quantity, Chai Addict was born in September 2016.
TO MARKET, TO MARKET
Janson spent the first year getting the brand known, attending markets all around Victoria.
"During that time I was able to secure retail stockists as well as cafés, who use the product in-house, and serve it to their customers."
The past year has been spent consolidating the first
12 months' of hard graft and spreading the message further afield.
"This year I've probably done a lot more interstate travel, trying to get the brand out there. Most of my markets that I attend now are the bigger design markets, such as Finders Keepers in Brisbane, Sydney and Melbourne, where there is a focus on local makers. The demographic there is generally females looking to find something cool and new and exciting and I seem to do very well in these.
"There's also the Big Design Market at the end of the year, which is perfect for Christmas. It's a pretty intense three-day market and is exhausting, but it's a lot of fun.
"It's a great way to get the name out there, but you don't always get into these markets all the time. It's based on what
your product is all about, your sustainability approach, whether you make it yourself, that sort of stuff. Thankfully they are quite happy with my brand and the product itself, so I'll be there again this year."
On top of the cafés and retailers in her now-hometown of Melbourne, the former Brisbane native has secured stockists in Brisbane and Sydney in the past year, as well as regional Victoria, and is now working on the other states.
"There's also a bar that uses Chai Addict as a cocktail drink. So far that's just in Melbourne though – they're actually just up the road from me, they're my 'local'!"
Ever the networker, Janson also has Chai Addict product in a co-working space in Melbourne, where the other businesses send it to their clients.
18 | Food&Drink business | November-December 2018 | www.foodanddrinkbusiness.com.au
The spice of life
In losing a caffeine addiction, Chloe Janson has created a whole new one: for chai. Samantha Schelling reports.