Page 42 - AdNews April 2020
P. 42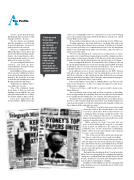 The Profile
"I had a great first manager Matt Balogh, who was the research manager at News," he says.
"He was always encouraging, with the principles of you'll learn from your mistakes, you need to push yourself, test yourself.
"News is a company where our DNA is like that, so I was able to get involved with marketing depart- ments, sales departments, edito- rial departments and get to work with a cross range of people.
"It's not a company that is hier- archical, you pick up more responsibilities and that's where you get promotions."
In 1994 Miller took the opportu- nity to relocate to Melbourne where he worked as the marketing service manager. He spent the next four years in the city, working across the Herald and the Weekly Times.
"While they're similar, they're very different," he says.
"One of the comments I make about News is that you can have multiple careers with the one com- pany, given the brands are so differ- ent and the cultures differ as well."
It was here, under these dif- ferent cultures, Miller had some
"I think we need to have more courage in backing our creativity.
We have some of the best editors, writers, directors, actors who
always apply their trade overseas, but I fear that we're losing our competitiveness as a creative country."
of his career highlights. But one experience he notes was working across the Sunday Telegraph and The Daily Mirror, which were edited by Roy Miller at the time.
"It was an interesting phase from a research point of view," Miller says.
"Picking audiences, knowing audiences, working with editors in that period of time when change was occurring. You had pay-tv launch- ing, you had probably not so much internet then, but the magazine market was spawning many different new titles, and news titles as much as lifestyle titles.
"We were introducing new colour presses at that point. So, there was quite a lot of rapid change happening around the company and also the country, in the terms of media. It felt like a lot at the time, but now it kind of doesn't, but the mid-nineties saw a pretty fast-paced change."
After working in Melbourne, he returned briefly to Sydney to take up the group marketing director role before moving again in 2004, this time to Adelaide. Here he led the Advertiser Newspapers, one of the most profitable businesses for News Corp in Australia, for six years.
He would later go on to be the regional director for NSW. Then in 2013 after some 20 years at News Corp, he jumped into a new sector at APN News & Media as CEO, which at the time still had its out-of-home division, which was recently sold to JCDecaux, and regional newspapers, which were acquired by News Corp in 2016.
It was under Miller's leadership of APN that News Corp increased its stake in the business to 14.99%, becoming the biggest foreign share- holder in the company.
"It was good to have a sabbatical for a period and be doing some- thing different.
"An opportunity comes along and, not that you always go knocking, it was an opportunity in something different, in a different environment to be equally involved with radio, out-of-home, international media.
"Being the CEO of a publicly-listed company gives you different per- spectives and if I hadn't had that experience, I probably wouldn't be experienced enough to do the job I'm doing today. Equally, I think you know what you like and what you miss."
"This [News Corp] is far more news-driven and that comes back to the current affairs. One of the reasons I came back to News is that I believe it's a company that can make an impact and it's one of the few companies that does. So, having an
impact, making a difference is probably one of the mantras I am subscribed to."
Miller returned to News Corp after just two years at APN taking up the top job as executive chair in 2015. In addition to the influence the publisher has on the Australian community, Miller said he was also lured back to the company
because of its storytelling.
"One of the reasons I was drawn into media was
that I was a reader, I love stories and storytelling. "The emotion of it, the journey that people take, and the important decisions that people make at the end of their journey, and I think that's probably the constant across all media. The best storytellers are the ones that gather an audience and connect
with an audience."
During his time heading up News Corp in Australia,
Miller has been navigating the company through the emergence of digital platforms, mainly Facebook and Google, which have caused the advertising-based busi-
ness model for journalism to crumble.
In addition to this, Miller has also been dealing with
long-running issues news media has faced; truth, trust and transparency.