Page 45 - AdNews April 2020
P. 45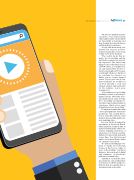 www.adnews.com.au | April 2020 45
"We invest so much money into our shows," Ten's chief content officer and executive vice president for ViacomCBS in Australia and New Zealand Beverley McGarvey told the industry conference.
"People talk about cheap real- ity [TV], but everyone in televi- sion knows that there is no cheap reality on TV at the moment.
"The reality shows that we make, the storytelling and the staff that is required are incredi- bly expensive. The interesting thing for me is that when you're a BVOD viewer, you might have sat and watched The Project or Survivor last night on TV because you thought 'whatever', but if you go searching for Survivor on 10Play, you are a super engaged viewer. You've gone out of your way to find that. It's not like you scrolled through a feed and clicked a button and watched it for five minutes, you've gone looking for it.
"To get audiences to go looking for things you have to provide pre- mium content. Obviously we're incredibly biased, but I feel like we're providing a premium ser- vice that's targeted particularly at experience, which sets us apart from what everyone else is doing."
TV may have a right to this claim – it does put significant money into production – but recently there's been a noticeable effort by social media to increase high-quality con- tent, including video.
Last year Facebook ramped up investment in Facebook Watch, which launched locally in 2018. It partnered with media owners for content, including extensions of Australia's Got Talent and The Bachelor. It's also struck deals with Seven, Nine, Ten, Sky News and Junkee for News in Watch, which are exclusive to Facebook.
"It's quite a refreshing space for them to finally move through because it has been a couple of years in the making," says Ryan Menezes, Starcom head of digital and commerce, on Facebook's push into premium video.
"Initially it seemed like there was a big focus on it and then they took their foot off the pedal for a little bit. Now, it seems like they're absolutely back on the table.