Page 26 - HW November 2019
P. 26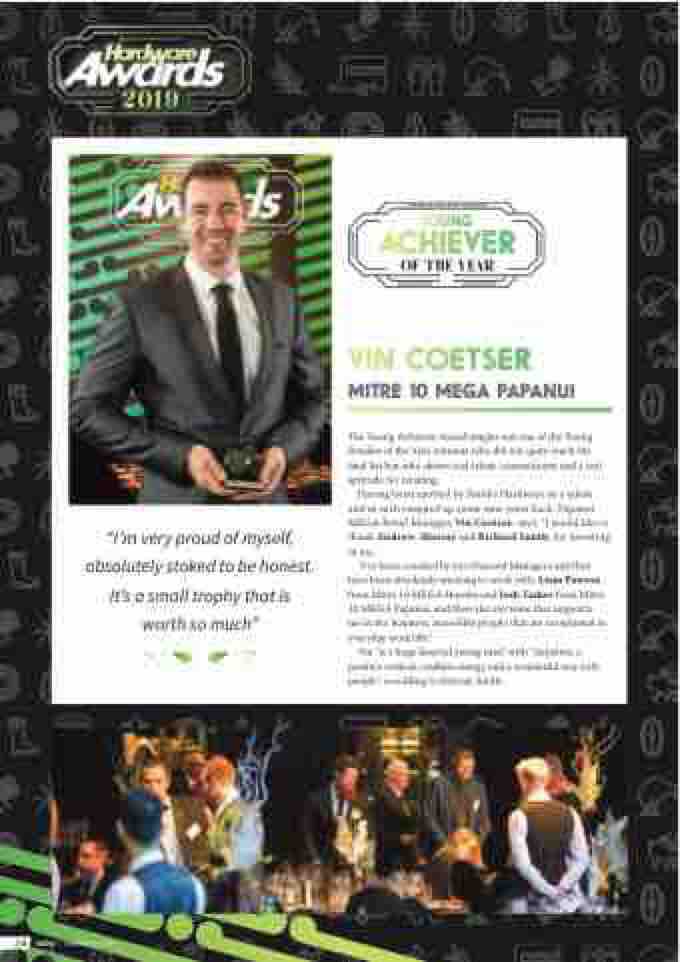 24 NZHJ | NOVEMBER 2019
MORE AT www.hardwarejournal.co.nz
"I'm very proud of myself, absolutely stoked to be honest. It's a small trophy that is worth so much"
VIN COETSER
MITRE 10 MEGA PAPANUI
The Young Achiever Award singles out one of the Young Retailer of the Year entrants who did not quite reach the final list but who shows real talent, commitment and a real aptitude for retailing.
Having been spotted by Smiths Hardware as a talent and as such snapped up some nine years back, Papanui MEGA Retail Manager, Vin Coetser, says: "I would like to thank Andrew, Murray and Richard Smith, for investing in me.
"I've been coached by two General Managers and they have been absolutely amazing to work with, Liam Pawson from Mitre 10 MEGA Hornby and Josh Tasker from Mitre 10 MEGA Papanui, and then also my team that supports me in the business, incredible people that are exceptional in everyday work/life."
Vin "is a huge hearted young man" with "initiative, a positive outlook, endless energy and a wonderful way with people," according to Murray Smith.