Page 21 - ALG Issue 1 2022
P. 21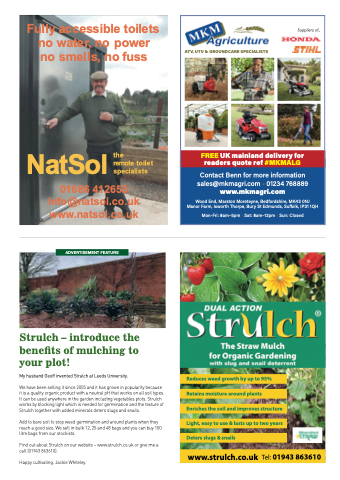 Suppliers of...
  ATV, UTV & GROUNDCARE SPECIALISTS
       FREE UK mainland delivery for readers quote ref #MKMALG
Contact Benn for more information
sales@mkmagri.com • 01234 768889
www.mkmagri.com
Wood End, Marston Moreteyne, Bedfordshire, MK43 0NJ Manor Farm, Ixworth Thorpe, Bury St Edmunds, Suffolk, IP31 1QH
Mon-Fri: 8am–5pm • Sat: 8am–12pm • Sun: Closed
Fully accessible toilets no water, no power no smells, no fuss
NatSol the specialists
01686 412653 info@natsol.co.uk www.natsol.co.uk
ADVERTISEMENT FEATURE
 remote toilet
     DUAL ACTION
with slug & snail deterrent As used by the RHS
  Reduces weed growth by up to 95% Retains moisture around plants Enriches the soil and improves structure Light, easy to use & lasts up to two years Deters slugs & snails
      www.strulch.co.uk Tel: 01943 863610
  Strulch – introduce the benefits of mulching to your plot!
My husband Geoff invented Strulch at Leeds University.
We have been selling it since 2005 and it has grown in popularity because it is a quality organic product with a neutral pH that works on all soil types. It can be used anywhere in the garden including vegetables plots. Strulch works by blocking light which is needed for germination and the texture of Strulch together with added minerals deters slugs and snails.
Add to bare soil to stop weed germination and around plants when they reach a good size. We sell in bulk 12, 25 and 48 bags and you can buy 100 litre bags from our stockists.
Find out about Strulch on our website – www.strulch.co.uk or give me a call (01943 863610).
Happy cultivating. Jackie Whiteley.