Page 33 - Navigator 19
P. 33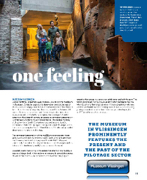 one feeling
MUZEEUM VLISSINGEN
Just as maritime - or perhaps even more so - is a visit to the muZEEum in Vlissingen. Climb the steps to the observation tower at the top of the museum and enjoy a wonderful, unobstructed view of the Western Scheldt and the many mega ships heading to and from Antwerp. Of course, there is plenty to see - and, for children, to do - inside the museum as well. In the building complex, the oldest part of which dates from the sixteenth century, an extensive permanent presentation is combined with changing exhibitions that tell the fascinating story
of the province of Zeeland's maritime past and present. Current exhibitions include 'The occupation imagined' about Vlissingen and its surroundings during the Second World War and 'Bombs and grenades' about weapons, art and technology.
The permanent presentation of the muZEEum covers several floors and is subdivided into four themes: water, work, glory and adventure. The famous seventeenth-century naval hero Michiel de Ruyter is prominently featured in that respect; he was born in Vlissingen and his statue on the boulevard proudly looks out across the water.
Especially worth mentioning is the substantial attention the muZEEum pays to pilotage, both in the past and at present. In several showcases, visitors can learn about the current role the maritime pilot plays in
ensuring that sea-going vessels can safely enter and exit the port. The history is covered in an audio-visual story which recollects the time when Dutch and Flemish pilots were in fierce competition with one another and would race their rowing boats towards a ship requiring pilotage in order to reach it first. These are just a few highlights. muZEEum offers much more to see...
THE MUZEEUM IN VLISSINGEN PROMINENTLY FEATURES THE PRESENT AND THE PAST OF THE PILOTAGE SECTOR
33
TIP FOR 2020: between April and October, be sure to also visit the vaults of the Kazematten (Casemates). This military structure, which dates from 1811, is part of MuZEEum and is situated just a few hundred metres down the road.