Page 90 - 2020 Summmer/Fall Catalog
P. 90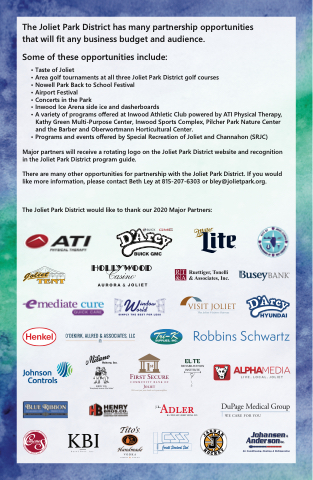 The Joliet Park District has many partnership opportunities that will fit any business budget and audience.
Some of these opportunities include:
• Taste of Joliet
• Area golf tournaments at all three Joliet Park District golf courses
• Nowell Park Back to School Festival
• Airport Festival
• Concerts in the Park
• Inwood Ice Arena side ice and dasherboards
• A variety of programs offered at Inwood Athletic Club powered by ATI Physical Therapy,
Kathy Green Multi-Purpose Center, Inwood Sports Complex, Pilcher Park Nature Center
and the Barber and Oberwortmann Horticultural Center.
• Programs and events offered by Special Recreation of Joliet and Channahon (SRJC)
Major partners will receive a rotating logo on the Joliet Park District website and recognition in the Joliet Park District program guide.
There are many other opportunities for partnership with the Joliet Park District. If you would like more information, please contact Beth Ley at 815-207-6303 or bley@jolietpark.org.
The Joliet Park District would like to thank our 2020 Major Partners:
j.l.
Adler
roofing and sheet metal inc.