Page 2 - Rhodes State College Kiosk Graphics Flip Book
P. 2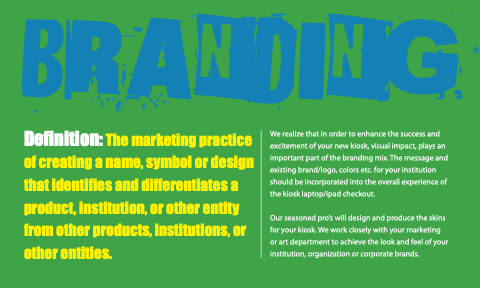 BRANDING
Definition: The marketing practice of creating a name, symbol or design that identifies and differentiates a product, institution, or other entity from other products, institutions, or other entities.
We realize that in order to enhance the success and excitement of your new kiosk, visual impact, plays an important part of the branding mix. The message and existing brand/logo, colors etc. for your institution should be incorporated into the overall experience of the kiosk laptop/ipad checkout.
Our seasoned pro's will design and produce the skins for your kiosk. We work closely with your marketing or art department to achieve the look and feel of your institution, organization or corporate brands.