Page 2 - Loveless Cafe 2019-2020 Catalog
P. 2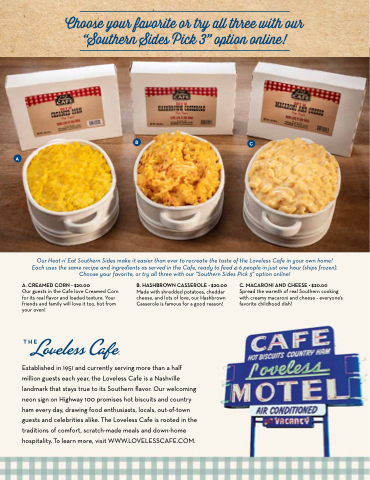 Choose your favorite or try all three with our "Southern Sides Pick 3" option online!
   B
C
  A
Our Heat n' Eat Southern Sides make it easier than ever to recreate the taste of the Loveless Cafe in your own home! Each uses the same recipe and ingredients as served in the Cafe, ready to feed 4-6 people in just one hour (ships frozen). Choose your favorite, or try all three with our "Southern Sides Pick 3" option online!
A. CREAMED CORN • $20.00
Our guests in the Cafe love Creamed Corn for its real flavor and loaded texture. Your friends and family will love it too, hot from your oven!
B. HASHBROWN CASSEROLE • $20.00
Made with shredded potatoes, cheddar cheese, and lots of love, our Hashbrown Casserole is famous for a good reason!
C. MACARONI AND CHEESE • $20.00
Spread the warmth of real Southern cooking with creamy macaroni and cheese - everyone's favorite childhood dish!
    Established in 1951 and currently serving more than a half million guests each year, the Loveless Cafe is a Nashville landmark that stays true to its Southern flavor. Our welcoming neon sign on Highway 100 promises hot biscuits and country ham every day, drawing food enthusiasts, locals, out-of-town guests and celebrities alike. The Loveless Cafe is rooted in the traditions of comfort, scratch-made meals and down-home hospitality. To learn more, visit WWW.LOVELESSCAFE.COM.